by Bishop Bill Gohl
When you pass through the waters, I will be with you; and through the rivers, they shall not overwhelm you; when you walk through fire you shall not be burned, and the flame shall not consume you. For I am the Lord your God, the Holy One of Israel, your Savior. – Isaiah 43:2-3
I spent this last week in the Caribbean Synod as part of the ongoing work of our Building Puentes Initiative, in partnership with that synod, the Metropolitan Washington, D.C. Synod and our Delaware-Maryland Synod. I had the opportunity to dive deeply into the ongoing recovery efforts of the islands, churches, and residents; to see the impact that your financial partnership and sweat-equity is making in the life of the Caribbean Synod, across Puerto Rico and the US Virgin Islands.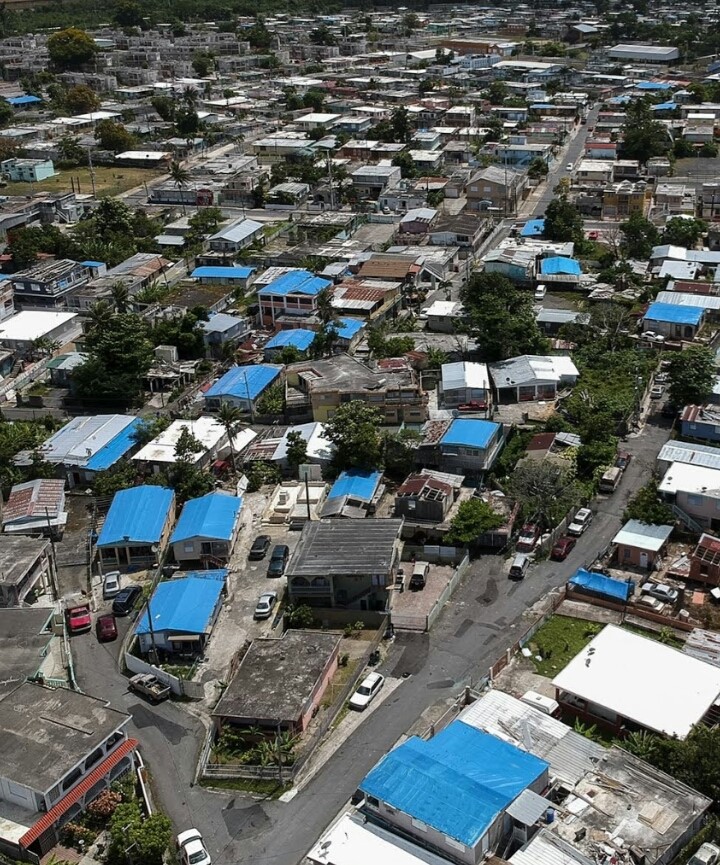 But, friends, there's still a long way to go…
The church where I preached on Sunday, Principe de Paz, still has a tarp covering part of its roof and just in the last two weeks was able to repair a significant hole in the roof over the baptismal font.
By El Yunque National Forest, there are homes that were completely destroyed by Hurricane Maria, still sitting like broken erector sets in heaps, between restored homes.
Some of our ELCA pastor colleagues in the Caribbean Synod do not have habitable homes, and among those who do, there are still some without working kitchen appliances – for two years.
There are high water marks from the storm on some buildings even while others are restored.
There are traffic signals that have not worked in two years.
Even in downtown Old San Juan, the tourist center of Puerto Rico, there are still intermittent power outages because the infrastructure has not been restored (it happed to me on an elevator).
Congregations across the synod are experiencing the devastating loss of families who evacuated to the mainland – and didn't return; buildings that are still in disrepair and pastors working for well-below-poverty-level pay.
Congress is back in session seeking to reach an agreement on new disaster relief funds for Puerto Rico and other jurisdictions hit by recent natural disasters. Since the new year, the Senate has failed to agree on the House-passed disaster relief bill in mid-January. The implications of this impasse are huge, tangible and easily seen when you visit. On a much larger scale, it reminds me of the garbage piles that collect on the National Mall when there is a government shut-down; only for these siblings in Christ, it's been two years of burdens collecting with very little sense of hopeful resolution in sight.
The next stages of Building Puentes will be to continue our support and accompaniment of the rostered ministers of the Caribbean Synod and to learn from their ministry and experiences; to continue our work trip partnerships (which are completely oversubscribed for this summer); and next, to match congregations in the Caribbean Synod with counterparts in Metropolitan Washington, D.C. and Delaware-Maryland to forge partnerships, leverage cultural differences for deeper relationships with Christ and the Church, and build real bridges of understanding among us.
It was a privilege to represent our Delaware-Maryland Synod in the Caribbean Synod last week. I am committed to seeing us grow into the fullness of these partnerships and advocating for our siblings whose suffering is hidden, and largely forgotten. I saw the risen Christ, sometimes even in his wounds, among a resilient and hopeful people. I was strengthened in my faith, even when overwhelming doubts threatened to overtake me.
But now thus says the Lord, he who created you, O Jacob, he who formed you, O Israel: Do not fear, for I have redeemed you; I have called you by name, you are mine. When you pass through the waters, I will be with you; and through the rivers, they shall not overwhelm you; when you walk through fire you shall not be burned, and the flame shall not consume you. For I am the Lord your God, the Holy One of Israel, your Savior. I give Egypt as your ransom, Ethiopia and Seba in exchange for you. Because you are precious in my sight, and honored, and I love you, I give people in return for you, nations in exchange for your life. Do not fear, for I am with you; I will bring your offspring from the east, and from the west I will gather you; I will say to the north, "Give them up," and to the south, "Do not withhold; bring my sons from far away and my daughters from the end of the earth— everyone who is called by my name, whom I created for my glory, whom I formed and made." – Isaiah 43:1-7