I came that they may have life, and have it abundantly. –Jesus Christ (John 10:10)
As Thanksgiving is upon us, I cannot help but spend something of myself counting the many blessings of my life and ministry, many of which I take for granted day by day.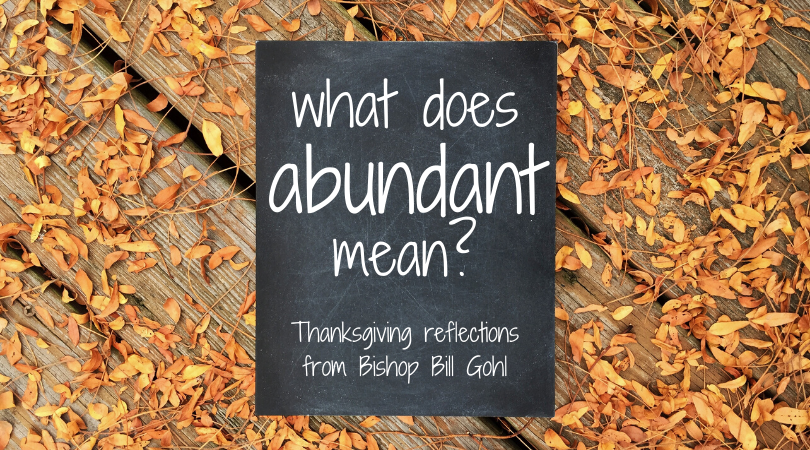 Our synod has spent the last year with particular and renewed emphasis on generosity. Generosity was the centerpiece of our Synod Assembly, generosity was the theme of our Bishop's Leadership Retreat and a marvelous follow-up cohort around strategic stewardship planning, generosity is the foundation for our Strong Roots for Wide Branches initiative. Ours is an abundant God, and we praise the One from whom all blessings flow!
Dr. Ralph Smith, onetime Associate Pastor of St. Martin's (Annapolis) and, before his untimely death, Professor of Liturgics at Wartburg Seminary, spoke of such abundance and generosity: "All that Jesus is, he is, so that we might have life … no, not simply have life, but to have life abundantly. Abundantly! We would do well … to ponder 'abundant' …"
What does abundant mean?

plentiful                     opulent                      lavish                         teeming
abounding                fruitful                        unmeasured               chockfull
rich                           profuse                      bountiful                     unstinted
generous                  well-provided             ample                        unsparing
full                            flowing                       overflowing                replete
luxuriant                   exuberant

Yes. All of this.                                              (Gentle Strength, Wartburg Seminary, p. 115)
While it's true, we are not all in a position of excess in possessions and many of us know strained relationships; still, there are many blessings, much abundance and God's provident generosity for which we should be reminded.
Among the many ways I will measure blessings, abundance, and generosity this week, I will be giving thanks and remembering you, all of you. I am grateful for the pastors and deacons of this synod, whose sacrificial ministry humbles and inspires me; for my Delaware-Maryland Synod staff colleagues who give so much of themselves for the sake of this church; and for all of you, who are the body of Christ alive in this world God so loves.
This Thanksgiving, I wish you and yours the abundance of God given in Jesus Christ.
Yes. All of this, indeed!