by Bishop Bill Gohl
"I am the resurrection and the life. Those who believe in me, even though they die, will live, and everyone who lives and believes in me will never die. Do you believe this?" –John 11:25-26
Bishop Gohl preached for the funeral of the Rev. Robert William Moore, a beloved interim pastor who served a number of Delaware-Maryland Synod, ELCA congregations; and who made his congregational home with the people of First (Ellicott City), where his children and grandchildren are active in the life of that community.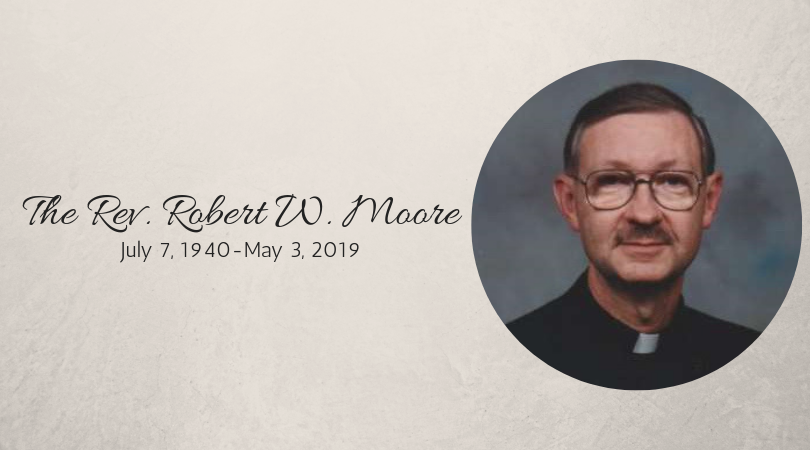 In the Name of the Father, Son, and Holy Spirit. Amen.
"Dear Bishop Gohl," a former council president wrote me this last week, "Our congregation was so saddened to hear of the passing of Pastor Moore. He was the embodiment of not being defined by difficult circumstances or defined by one's disease or diagnosis, he didn't die from cancer – he lived with it, and he lived well. He was a quirky character, a friend to all who knew him and an inspiring preacher. He will definitely be missed, but he leaves so much of his own faith for all of us. In Pastor Moore though his candor about his own failings and foibles, we learned a bit about grace which was as real for him as he wanted it to be for each of us."
This is the Robert Moore I knew. With a quiet strength, he was there at all of the right moments; when a congregation was experiencing the difficult reckoning with transition and loss. Whether we were at low ebbs or high celebrations, he would inject his dry, wicked sense of humor and make us laugh, despite our circumstances and in spite of ourselves. Quietly, behind the scenes, with an eye for detail, he reminded us of what faithfulness looks like in this day and age, proving again and again that he was, in the very best sense that Jesus describes, neighbor, family, our friend.
With a quiet efficiency and a quick mind, Robert discovered a "second life" that was defined by his passion for interim ministry; his irrepressible hope that he would – and did – beat the odds around pancreatic cancer; his love of music – really good music; his pride in his children and the delight he knew as a grandfather. Even in the last few months, he would reflect on the unexpected joy of sitting with his family in the pews, worshipping together here at First.
Now, don't let me ramble and re-remember Robert, either! He was a memorable character, too. As an interim, he was known to gently, but firmly, set more than one of us straight, more than once! And if we dared to "talk back," one of his attack mini-dachshunds would bark us out of the pastor's study, gently reminding him and us that they were large and in charge over Robert's life – and, sometimes ours, too. In fact, the first time I met Robert was when he was serving as interim pastor of Zion in the Middletown Valley. I was serving on the staff of our then-bishop, Jerry Knoche, and was dispatched – at the ripe age of 28 – to counsel with this experienced and gifted pastor to talk through some of the impasses he was experiencing in this vibrant, but challenging congregation that was still reeling over the retirement of their beloved and dynamic long-time pastor. He received me with no blink as to my age and experience, offered me collegiality and friendship – which endured even until these last days; he plotted and planned with me, and tried not to be too horrified when his then-rescue dachshund, misnamed Sweet Pea, bit me when I deigned to try to pet her in his office!
Robert was a good pastor, a devotee of fine music (particularly organ music), and fascinated by classic cars – especially Studebakers. He rarely passed by without a quip and an encouraging word. He never abdicated his responsibility to share of himself. He never said an unkind word about another in my presence, though he had pretty snarky eye-rolls; and he exuded a genuine respect for others that is rare in this cynical, partisan, dog-eat-dog world we live in. He went out of his way to do for others, be them family, friend, neighbor or stranger; and deeply appreciated all that was done to support him in the long health journey he lived among us. In his life and, especially his ministry, he did what he could with strong gentleness in his spirit, his tender heart; and gentle strength in his determination, his fierce independence and genuine concern for others.
Last week, our Lord gathered Robert into his arms, healed his soul, released him from a body that betrayed him, and with a love stronger than death welcomed him into the fullness of life with God, and paid his admission, his care, his future, his eternity by his own precious blood. Jesus kept a promise he made to our brother when he was baptized long, long ago. Robert William, you are mine. Forever.
I stand before you as one who shares your grief. Though he outlived every prognosis of his pancreatic cancer diagnosis, I realized when I visited with Robert on Easter afternoon that he was celebrating his last Easter among us, and in fact, he would soon know Easter forever. The only comfort that fills my heart with any hope, as it aches over the death of our friend, is just this. Robert lives. Robert lives in the fullness of faith become sight – and he lives on, in us, too.
The scriptures sum it up this way: I am the resurrection and the life. Those who believe in me, even though they die, will live, and everyone who lives and believes in me will never die. Indeed, because Jesus lives, Robert lives – and so shall we, too. Amen.
Martha said to Jesus, "Lord, if you had been here, my brother would not have died. But even now I know that God will give you whatever you ask of him." Jesus said to her, "Your brother will rise again." Martha said to him, "I know that he will rise again in the resurrection on the last day." Jesus said to her, "I am the resurrection and the life. Those who believe in me, even though they die, will live, and everyone who lives and believes in me will never die. Do you believe this?" She said to him, "Yes, Lord, I believe that you are the Messiah, the Son of God, the one coming into the world." –John 11:21-27