Above all, clothe yourselves with love, which binds everything together in perfect harmony. – Colossians 3:14
Ray Revis died on Monday night. Spouse of Darlene for nearly 60 years; father of Pastor Robin and her husband Pastor Chris, and Beth and her husband John; grandfather of Pastor Jacob and his wife Sandra, Justin and his wife Erica, and Katie; and great-grandfather of Kuen, Keira, and Kamden.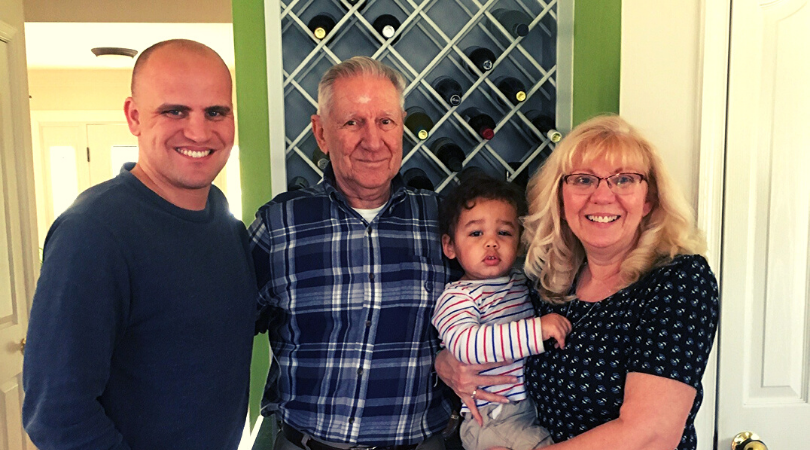 I first knew Ray when I served as pastor of Peace, Glen Burnie (now Rejoice Fellowship) in my first seven years of ordained ministry; I've had the pleasure of knowing him ever since.
Professionally, Ray was a "troubleshooter" for an employee-owned and operated industrial equipment company. In that capacity, Ray did what he did best – others would call him in when no one else knew what to do when large, complex and expensive pieces of equipment would malfunction and with the patience of Job, he would back into the situation, take each component of the equipment apart, test each individual piece, until he found the malfunctioning culprit – and then put it all back together again, testing the equipment at every stage until the whole was working again. He only would back in as deep as the problem, the key was in not taking too much apart! To listen to him describe his work was to know a man who was meticulous, patient and took pride in doing what he did exceptionally well.
To be honest, Ray was not a regular churchgoer when I was pastor in Glen Burnie. His dear wife, Darlene, was a pillar of the congregation, but he always kept a bit of distance. He wasn't hostile or unfriendly, but he felt that he and God had some things to work out. Normally, I would see Ray when one of his grandsons, Jacob – now the Rev. Jacob Simpson – and Justin were performing in the Christmas pageant, being confirmed or leading on a youth Sunday. He was easy to pick out, just look for the man in the congregation most interested in getting out of his jacket and tie after the service! Still, Ray was the kind of parishioner that you could call on, with a moment's notice, to pitch in when there was a problem. He and I spent more than one evening together over a malfunctioning sump pump, water heater, and dishwasher.
Not a secret to his family, he also did beautiful woodwork. When Peace began a contemporary worship service in our fellowship hall, Ray designed and built the stunningly beautiful altar platform. When I wanted to appropriate a beautiful cross that Pastor Mary Miller-Zurell (then of New Hope, Columbia) had designed with changing panels for the liturgical seasons, it was Ray that heard me out and, I would dare say, improved on the design and installed that cross at Peace (it now has a home at Holy Spirit, Eldersburg, where Ray and Darlene are members). Even when the bolts holding it to the wall failed, and the cross fell to the floor and was smashed, patient Ray came, gathered his creation up, took it home, and made the broken whole.
Why this tribute, you might ask, to an average Joe who didn't have an especially distinguished ecclesial career of having been a Sunday School teacher all his life or a devoted choir member for all of his days?
Ray Revis inspired me as a person of faith. He was humbled by his own struggles and wore redemption well. He was deeply invested in his grandchildren and making sure they had a better go than he did. He returned to the full life of the church in a later season and, though dogged by portable oxygen, he too became a pillar of the church. His humility was his dignity, and he didn't take much for granted. He was proud of his daughters and the families they created. He was an especially fine grandfather to Jacob, Justin, and Katie – and in them, I see so much of the very best of Ray. He loved being a great-grandfather quite possibly more than anyone else I know.
At the end of his life, while he received hospice care, Darlene and Ray moved in with Pastor Robin and Pastor Chris. There was redemption there, too. When health and circumstance threatened to rob Ray of his dignity, it was restored and protected by his family who, in typical Ray fashion, saw the problem, backed into it, carefully took as little of his life apart as they could, and put it back together again so that his last days could be lived in peace. Indeed, he died in Christ, surrounded by some of those he loved the best, his peace and dignity intact.
Nota bene: If one were ever to watch Pastor Robin's ministry in our synod, even from a distance, you would see the same method of carefully backing into the task at hand – usually identifying new pastoral or diaconal leadership for a congregation or ministry – and then helping a council or call committee take apart some malfunctioning processes to find a problem, identify it, address it – and carefully put it back together again to find restored health, strength, and vitality. In many of the very best ways, it can be said of our colleague and friend: she is her father's daughter.
Raymond Lee Revis, beloved child of God, 1937-2019. May he rest in peace and rise in glory.
As God's chosen ones, holy and beloved, clothe yourselves with compassion, kindness, humility, meekness, and patience. Bear with one another and, if anyone has a complaint against another, forgive each other; just as the Lord has forgiven you, so you also must forgive. Above all, clothe yourselves with love, which binds everything together in perfect harmony. – Colossians 3:12-14