The next day [John the Baptist] saw Jesus coming toward him and declared, "Here is the Lamb of God who takes away the sin of the world!" – John 1:29
This past Saturday, after the "weather event" failed to fully materialize, and having been the beneficiary of "an abundance of caution" that cancelled both the King Commemoration and the Creating a Culture of Generosity learning event, I slipped over to Salem (Catonsville) for Saturday evening worship. Because of the dire weather predictions and a bit of sleet, the gathering at Salem was "intimate."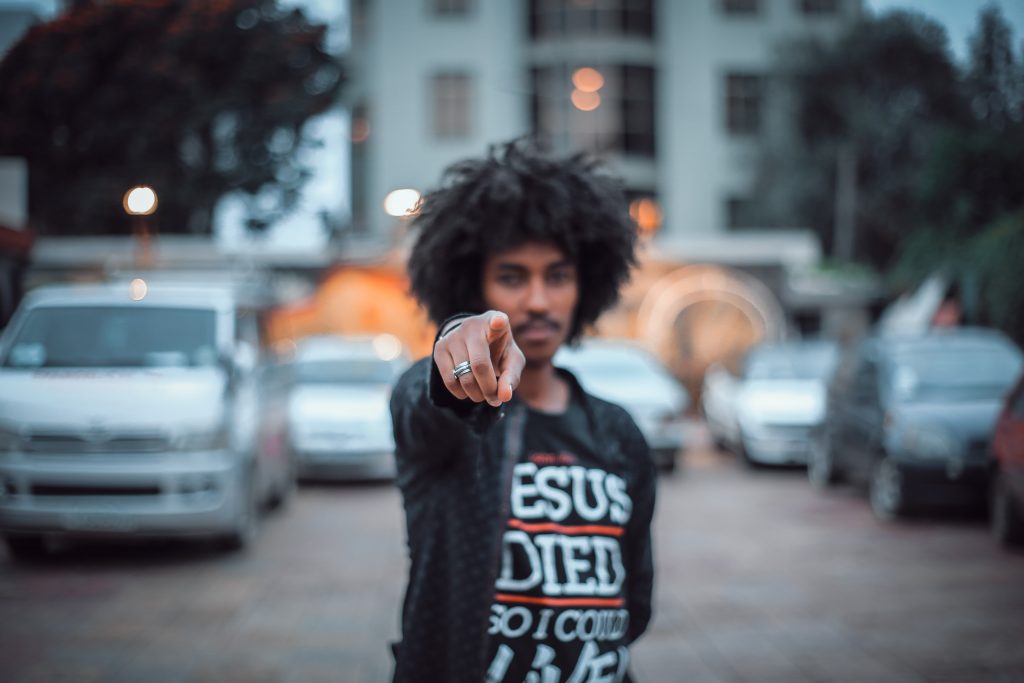 Pastor Sarah Garrett Krey was the preacher for the day, and she wove together her sermon around the marvelous common experience many of us have had of a parent reminding us not to point at other people, that pointing is impolite. I identified so strongly with that reminder of my childhood that, as she invited us to defy convention and actively point to Jesus, I was rewriting my own Sunday sermon in my head.
How do we point to Jesus? There are a myriad of ways that we do that corporately as the Church, some more effective than others; and others more ineffective than helpful. When I preached for the folks of St. Abrahams (Beckleysville) on Sunday, I suggested that there are a few consistent ways that we can and do point to Jesus as disciples:
We point to Jesus in our worship. Not only in the obvious expressions of Word and Sacrament, song and prayer; but also in the very act of worshipping. Each time we return our time to God, when our neighbors recognize that we are headed off to church, when we are candid that we have a priority commitment each week for worship, we point to Jesus. In our openness to be challenged by the Word of God in scripture and preaching, in our thoughtful approach to confession and forgiveness, in open hearts that receive the bread and cup, the body and blood with awe and thanksgiving, we point to Jesus. When our words and deeds give witness to our changed lives, we point to Jesus.
We point to Jesus in our witness. I'm not talking about a door-to-door witness (though I've had good experiences of that work in my parish ministry), I'm talking about the witness of our lives. What does your calendar speak of your faith? How do we spend ourselves to amplify the voices of others? What sacrifices are we willing to make for the sake of righting injustice? I see the many ways that our folks are finding their legs to stand up and show up for our neighbors in the margins. I am hope-filled to the point of tears when I see the youth and the senior citizen who do the right thing even though it has cost and consequences. Our lives, our time, our willingness to call out the wrong that seems oft' so strong  – in these, we point to Jesus.
We point to Jesus in our generosity. Scarcity begets scarcity and generosity cultivates generosity. Your generosity toward your congregation and our synod points to Jesus. Those extra-mile gifts for the food pantry, an openness to visit St. Dysmas, make dinner for one of our campus ministries and invite a young person to the life-changing experience of Mar-Lu-Ridge points to Jesus. Partnership with our synod's Lutheran Youth Organization mission projects, your willingness to go to Puerto Rico to rebuild homes and to build cultural bridges points to Jesus. In a culture of me first, of bigger toys and larger places to keep our stuff, your defiance of setting apart what's right for the sake of something larger than yourself, rather than returning what's left, points to Jesus. I am thankful that your bank statement speaks well of this faith we share, as we point to Jesus.
Pastor Garrett Krey's sermon stirred me to think about the Gospel invites us to point to Jesus, like John the Baptist, or as she called him, John the Witness. I see the ways that Gospel call manifests itself among us throughout our synod. Still, I hope you're challenged, like I was, to think again about how we are each called out and set-apart to point to Jesus, too. We don't always, and sometimes often, don't get it right; and still, you inspire my witness, and I pray we can encourage one another, too. Our mission is compelling, our calling is clear, the need is urgent, friends: point to Jesus.
The next day [John the Baptist] saw Jesus coming toward him and declared, "Here is the Lamb of God who takes away the sin of the world! 30 This is he of whom I said, 'After me comes a man who ranks ahead of me because he was before me.' I myself did not know him; but I came baptizing with water for this reason, that he might be revealed to Israel." And John testified, "I saw the Spirit descending from heaven like a dove, and it remained on him. I myself did not know him, but the one who sent me to baptize with water said to me, 'He on whom you see the Spirit descend and remain is the one who baptizes with the Holy Spirit.' And I myself have seen and have testified that this is the Son of God." The next day John again was standing with two of his disciples, and as he watched Jesus walk by, he exclaimed, "Look, here is the Lamb of God!" The two disciples heard him say this, and they followed Jesus. When Jesus turned and saw them following, he said to them, "What are you looking for?" They said to him, "Rabbi" (which translated means Teacher), "where are you staying?" He said to them, "Come and see." They came and saw where he was staying, and they remained with him that day. It was about four o'clock in the afternoon. One of the two who heard John speak and followed him was Andrew, Simon Peter's brother. He first found his brother Simon and said to him, "We have found the Messiah" (which is translated Anointed). He brought Simon to Jesus, who looked at him and said, "You are Simon son of John. You are to be called Cephas" (which is translated Peter). – John 1:29-42