"Which commandment is the first of all?" Jesus answered, "The first is, 'Hear, O Israel: the Lord our God, the Lord is one; you shall love the Lord your God with all your heart, and with all your soul, and with all your mind, and with all your strength.' The second is this, 'You shall love your neighbor as yourself.' There is no other commandment greater than these." – Mark 12:28a-31
These last few weeks, like many from across our Church, I reached out to the President and our Senators to beg for an intervention staying the order of deportation for Betty Rendón and her husband, Carlos Hincapie. I have been pressed to say something publicly by some in our Delaware-Maryland Synod, but I've stayed at the edges and instead, amplified the voices of her own bishop and our presiding bishop to call this Church to pray and act. Some of you know the story, and for others this is new.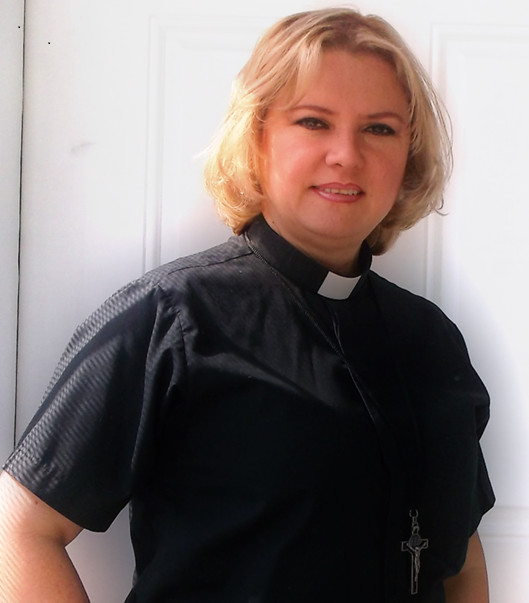 In 2004, Betty Rendón and her family fled Colombia's civil war. Guerrilla soldiers had threatened to kill Rendón at a school where she served as principal. Betty and her family fled to the United States with tourist visas and applied for asylum. Their applications were denied in 2009.
A seminary graduate, and a student beginning her doctoral studies at our seminary in Chicago, Betty and her husband, Carlos, were deported back to Colombia this morning.
No argument, this is our country's immigration policy at its worst: denying asylum for those who are vulnerable and in danger; and, not ancillary to the conversation, separating families, since Betty and Carlos' daughter, Paula, is a DACA recipient which means she can no longer leave the country if she wishes to remain in this country.
I have joined our presiding bishop and bishop colleagues in calling for government intervention, policy changes and a stronger commitment to protecting the most vulnerable among us who seek asylum and shelter.
And, of course, I pray – and invite you to pray – for Betty, Carlos, Paula, and all who flee violence and persecution for a better life among this immigrant Church that is our heritage and hope; in this melting pot we call America.
What leaves me most uneasy as Betty and Carlos find themselves en route to Columbia this afternoon, is that while our efforts in these last days have been herculean, loud and sustained; Betty and Carlos were denied asylum in 2009, nearly 10 years ago. In that time, we have benefited from her ministry, we have been richer for their family being a part of our family, and we collectively failed to act sooner. We had 10 years to accompany this family through a process to appeal the denial of asylum and appeal the order of deportation, and we're licking our wounds that we lost that fight when we took it up – and out to the church – in earnest, in these last few weeks.
Our ELCA social message on immigration says: "Our advocacy needs to take into account the complexity of issues, the diversity of interests, and the partial or relative justice of laws at the same time that it counters appeals rooted in hostility, racism, prejudice, indifference, and simplistic solutions. We draw on the best of our nation's traditions as a refuge and haven for the persecuted and destitute when we affirm that we support a generous policy of welcome for refugees and immigrants, and that we will advocate for just immigration policies, including fairness in visa regulations and in admitting and protecting refugees. We will work for policies that cause neither undue repercussions within immigrant communities nor bias against them." Ultimately reminding us that Jesus is present in the immigrant sibling, "I was a stranger and you welcomed me."
Admittedly, I don't know Betty Rendón, and I wasn't aware of her circumstances until these last days; still, I do know plenty of other Bettys and Carloses whose citizenship status is best described as fragile. I recognize in today's deportations not as much a failure of our government, but my own complicity in not acting sooner and advising urgency for the Bettys and Carloses in our Delaware-Maryland Synod community and in my aegis and care. Indeed, Luther suggests, "How do we know that the love of God dwells in us? If we take upon ourselves the need of the neighbor."
Immigration is complex. It is charged with emotion. It has become increasingly partisan. It can be extremely divisive. Still, it cannot be ignored. And so, licking our wounds, we gather ourselves again. We recommit to the work of advocacy. We support the work of Lutheran Immigration and Refugee Service. We speak out in the public square and at the ballot box. We give clear witness to the heart of God in Jesus Christ for the vulnerable, the marginalized, the least of these, our sisters and brothers.
One of the scribes came near and heard them disputing with one another, and seeing that he answered them well, he asked him, "Which commandment is the first of all?" Jesus answered, "The first is, 'Hear, O Israel: the Lord our God, the Lord is one; you shall love the Lord your God with all your heart, and with all your soul, and with all your mind, and with all your strength.' The second is this, 'You shall love your neighbor as yourself.' There is no other commandment greater than these." Then the scribe said to him, "You are right, Teacher; you have truly said that 'he is one, and besides him there is no other'; and 'to love him with all the heart, and with all the understanding, and with all the strength,' and 'to love one's neighbor as oneself,' —this is much more important than all whole burnt offerings and sacrifices." When Jesus saw that he answered wisely, he said to him, "You are not far from the kingdom of God." After that no one dared to ask him any question. – Mark 12:28-34