by Bishop Bill Gohl
"If you continue in my word, you are truly my disciples; and you will know the truth, and the truth will make you free." – John 8:31b-32
This is the text of the homily I delivered at Breath of God (Highlandtown) at a special liturgy on Reformation Sunday afternoon, which included the Baptism of Mabel Joy Deason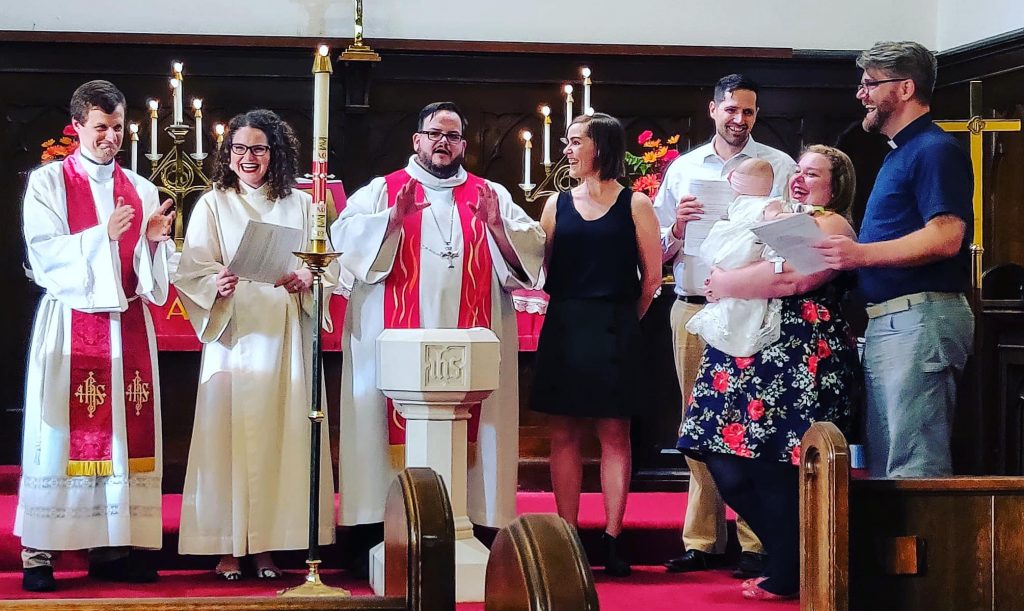 Dear Mabel Joy,
What a privilege it is to stand with you and your parents today, surrounded by your family and friends, supported by this faith community, and you in the midst of us, a living, breathing, cooing sign of the love of God.
And we need that – we need you! This world seems to be going to hell in a handbasket and a day like today reminds us of the faithfulness of God, the steadfast gift of faith – even when it's hard to believe.
You see, dear one, language like that which Jesus uses about "truth" is hard to wrap our collective heads around. On the one hand, we all feel like we have a claim to the truth, some possession of a trustworthy and strong foundation – but in this tweet-for-tweet, "fake news," fear-mongering-about-our-neighbor kind of world that we live in, those foundations don't feel as secure as they once did. Martin Luther called those foundations of truth the solas: Faith alone, Grace alone, Word alone, all pointing to Christ alone. And that sounds good, even right, but even good theology can become twisted around by even "good" Christians.
My friend, Richard Graham, for 12 years the bishop of Washington, D.C. said it like this, just last year: "I'm afraid that in the Christian churches in our country these past few years, we have constructed for our ourselves a powerful alternative history that isn't true. 'We were never racist,' we would say, 'We were never homophobic, [transphobic or xenophobic], we never ignored the leadership gifts of women and girls, we never acted as though our ethnic backgrounds were the same as our religion, we never celebrated our gifts and ignored everybody else's, we never just looked away from behavior we knew was wrong.' We say things like this to ourselves and we ignore the truth about who we were and are. People don't trust us, Church; and our witness in the world is crippled sometimes because we won't acknowledge the pain we have caused." (Richard Graham, Reformation Sunday sermon 2018, Washington National Cathedral, Washington, D.C.)
That's the inconvenient truth that becomes a part of your inheritance in baptism, Mabel. We are church. We are church together. Sometimes we get it right – and when we do, it's bliss, rising up as the body of Christ to serve our neighbor in this world God still so loves! Still, sometimes we screw it up, a lot, and we have work to do. And that's why we're here! You see, God gave us you as "a co-worker in the kin-dom, bearing God's creative and redeeming love to all the world!"
We don't always know what is going to happen, nor do we have any assurance that in this transient world that we live in, that everything will come out "happily ever after." In spite of the uncertainties of today, let alone tomorrow; we nevertheless live as people of hope, a hope that is grounded in One who will not disappoint us, and we then become signs of hope to a hurting and broken world. We are here today, defiantly and faithfully, trusting you to our God who has known you from the before the beginning – and trusting God, who is about to tear the roof off this church, and with water and the Word, God will reach down from heaven, naming and claiming you as God's own forever; Mabel Joy, marked with the cross of Christ, you belong to God. Always.
You might trip on first steps, dear Mabel; and still, you will know grace. When there are setbacks or discouragements, we pray you and your parents have the faith and courage for those days. And, my dear one, when you do succeed and overcome, as you will many, many, times, I pray you will have the humility to realize that you won, that you overcame, that you made a difference by the grace of God and the love of so many that encouraged, supported, empowered and equipped you along life's way.
You see, we will be watching to see how baptism will shape you; how your baptism will shape us and this community; and how, as a child of God, you will shape the world. And, as much as I want you to have faith in God, I want you to have faith in yourself, too. Your faith will likely be different than mine. Baptism does not make you Lutheran; it makes you a beloved child of God. Baptism gives you license and responsibility to hammer out what you believe, independent of what I think or believe. Nevertheless, I hope you will give faith a fighting chance. Faith has changed my life and I hope it changes yours, too.
That's what Jesus is getting at in the scripture this afternoon. In Jesus, we encounter the truth, and it frees us. Freedom is the truth that helps us meet today, tomorrow and all its challenges – physical, spiritual, relational, vocational, political, individual, communal – with the sure knowledge that in Christ we are free to live and love a Lord who has been there before us, who knows our brokenness, who knows our needs and to our weaknesses is no stranger.
That kind of freedom is a gift, won for us on the cross. Freedom is the knowledge of a saving truth, the amazing grace, an extravagant love of God come to us in Christ.
This freedom is also a part of your baptismal inheritance: freedom not do whatever you please, but freedom to do that which pleases God. To live for Christ and neighbor in a world that calls you to live for yourself first. Freedom to live in spite of hurts, hang-ups, and mistakes, that when you sin and fall short, you would turn back to God, that your life would be a glimpse of God's mercy, and your light shine brightly to the glory of God. No pressure!
You see, Mabel Joy, we love you! We love you, your wise-beyond-her-years sister, your creative and incredible mom; and your multi-talented and deep, deep father. Today, God's love has been poured into your heart. Today you have been filled to overflowing, and I am filled to overflowing, too. I can't wait to see what God is going to do in you, how your truth-telling will reform this beautifully, flawed church we love, and how you will help us all change a world that desperately needs changing. Because, you see, Jesus brings a promise to you and to all of us in your baptism…when the Son makes us free, we are free indeed.
Free, indeed, Mabel Joy! Free, indeed!
Love,
Mr. Bill
Then Jesus said to those who had believed in him, "If you continue in my word, you are truly my disciples; and you will know the truth, and the truth will make you free." They answered him, "We are descendants of Abraham and have never been slaves to anyone. What do you mean by saying, 'You will be made free'?" Jesus answered them, "Very truly, I tell you, everyone who commits sin is a slave to sin. The slave does not have a permanent place in the household; the son has a place there forever. So if the Son makes you free, you will be free indeed. – John 8:31-36