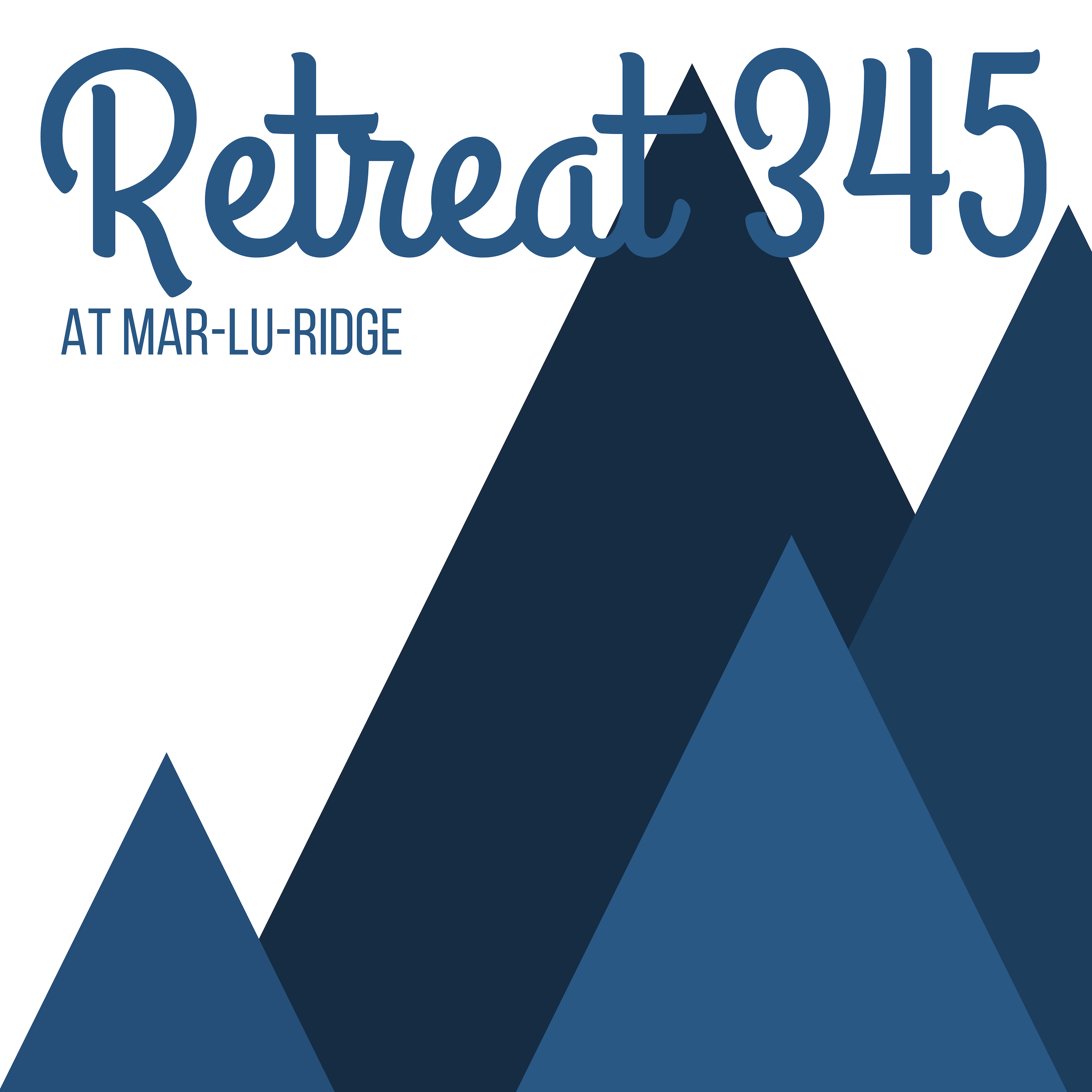 March 21-22, 2020
The Ridge Inn at Mar-Lu-Ridge
4341 Mountville Road
Jefferson, MD 21755
All children in grades 3, 4, and 5 are invited to attend our synod's new retreat for elementary school students. All day Saturday, we will rotate through different stations to experience God through Bible study, games, arts and crafts, science, and service. On Sunday morning, we will join the middle school students participating in Transformers just up the mountain at main camp for a combined interactive closing worship service.
At Retreat 345, we are inviting families to attend a retreat with their children if they wish. There will be a track available for parents, guardians, and family members with many opportunities for rest and relaxation as well. If you are bringing younger siblings of participants, they are welcome at the parent, guardian, and family track as well!
The cost is $100 per person ($250 maximum per family), which includes program, lodging, and meals (Saturday lunch and dinner, and Sunday breakfast, as well as snacks throughout the event). Registration closes on Friday, March 6.
Frequently Asked Questions
Does my child need to attend with a congregational group?
No! This is how Retreat 345 is different from most of our synod's other youth events. Children may attend with adult family members, with an adult from their congregation, or without an adult. Supervision for all children will be provided by adult mentors and youth from our synod's Lutheran Youth Organization – a leadership development program for high school students.
What are the sleeping arrangements?
Families who attend together will be housed in hotel-style rooms at the Ridge Inn, which include beds and a private bathroom. The number of rooms available is limited, so please register early if you are bringing your family! With the family's permission, children attending with a congregational leader may stay in a hotel-style room as well, provided that it not just one adult and one youth, per our synod's child protection policy. Children who attend without an adult will sleep in a large common room on sleeping bags that they will bring with them. Event staff will sleep in this room as well. If your child is attending with your family or an adult congregational leader and would like to sleep in the common room, they are welcome to do so!
When and where can I drop off and pick up my child?
In the coming days, we will have a finalized event schedule that will tell you the exact time when you can drop off your child on Saturday morning. Drop-off and registration will take place at the Ridge Inn (4341 Mountville Road). However, pick-up will be in a different location! On Sunday morning, we will transport Retreat 345 participants up to the main camp area at Mar-Lu-Ridge (3200 Mar Lu Ridge Road) for a shared worship service. You may pick up your children at noon on Sunday in the Potomac Lodge. If you would like to join us for the combined closing worship service, please indicate that on your registration form and keep an eye out for the schedule for timing and location information.
What does my child need to bring with them for the retreat?
We will share a full packing list, but your child should plan to bring weather-appropriate clothing and outerwear, including sturdy close-toed shoes (like sneakers). Children who will not be sleeping in one of the hotel-style rooms must bring a sleeping bag and pillow, and may bring an air mattress and blankets if they wish. ALL PARTICIPANTS will need to bring their signed permission form and participant's promise in order to participate.
Kids Track
Seekers
Imagine what it would be like if you could ask Jesus any question! What questions do you think you would ask? Using the story of Jesus teaching Nicodemus (John 3:1-17) we will explore the everlasting love of God and the ways we can seek God in our lives right now.
Parent, Guardian, & Family Track
While our kids are learning to be seekers of their faith, adult participants will be exploring how to create a space for caring conversations around faith within their homes. Our adult track will include time for fellowship, discussion, and reflection along with opportunities to practice self-care through rest, refueling, or fun in our version of a "choose your own adventure."