Generosity During Coronavirus
SPECIAL GENEROSITY TRAINING EVENTS:
Cultivate Generosity with Adaptive Planning  offered Thursday, January 28th, 2021 7-8:30 pm
This training is especially recommended for Congregational Councils, Finance Teams, Stewardship Teams and those interested in cultivating generosity using adaptive planning techniques.
PAST TRAINING RESOURCES: 
– Steps to Funding Ministry in the New Normal held June 23, 2020: Copy of Presentation
– Align Your Budget with Ministry Opportunity of this Time held August 25, 2020: Copy of Presentation & Recording
– Generosity & Partnerships in the Urban Context – Rev. CeCee Mills begun Sept 17, 2020: click for resources and information
During these uncertain days of new challenges and new ways of doing ministry, our synod wants to encourage every member to LIVE IN GENEROSITY, where and when you can. Generosity to share food and necessary items with your local pantry and meal program serving folks who are food challenged, especially during these times of crisis. Generosity to reach out via a call, a card or an email to someone who is isolated and lonely. Generosity to be kind to yourself when you are anxious and worried, Generosity to continue to financially give to your congregation however knowing that if you are strained by the impact of Covid-19, don't worry about your giving now. Yet if you are able to give, your faithful, regular gifts make a difference especially at this time. Congregations are not closed but have ministries, agencies and people who rely on the support, both within and outside your congregation. Our work in God's kingdom relies on our collective generosity.
We realize there are many concerns about Financial Practices. We have collated this Financial Best Practices document. Please review and if you have any questions, feel free to send Karen Kretschmannn a request here and she will be in touch!
These uncertain times give us an opportunity to try new things, share amazing generosity, communicate ministry impact and experience God's abundant love.  The church is not closed, more than ever we are living out BEING CHURCH.  Our members need to know we believe in them, that we are encouraged by the many ways they can and are engaging, connecting, giving – as they can. We must communicate stories of how God is using your congregation during this time and connect an invitation to generosity to each story.  Stories that keep Jesus in the narrative, share faith encounters and move people to action!
As we explore how we will live into the new normal of ministry, during and beyond isolation, it is vital that we ENGAGE, CONNECT, ASK our members and ministry friends to care for our community, our congregation and ourselves.  We need to be Intentional, Inspirational, Informational & Invitational.  Intentional means thankful, clear, sacred and not goading or desperate. Inspirational means sharing impact, lives changed, and relational. Informational means being abundantly clear about how to be generous and give – provide the online link, remind folks to send in offering and mail is being collected, send a letter sharing every way someone can give and include a few self addressed stamped envelopes (here are a couple Sample 1 How to Give & Sample 2 How to Give, use the one that fits your context best). And yes, Invitational means you both model giving, share stories of generosity and you ask. It is essential that you are communicating thanks and ministry need through thank you letters, statements, and calls. LEAD has developed this fantastic tool with scripts and wording. Here are also a couple templates for a Sample 1 Giving Statement or Sample 2 Giving Statement.
Many have seen the importance of keeping the offering central to your online worship formats by proclaiming gratitude for gifts received, sharing stories of impact and clearly communicating with your members about they ways they can give, many have seen solid giving even during this pandemic. We do need to Engage, Connect, Ask! But yes, be aware that some of our members will not be able to give at this time, but others can be extra generous, if we only ask. If you are looking for ways to successfully do an offering talk during online worship, here is a resource from Generis providing wording and format during the offering in an online format. 
It is a priority that congregations have E-Giving available for members as well as folks attending your online worship or gatherings. If you are seeking an online giving platform, the ELCA has Preferred Vendor agreements with Vanco and Tithe.ly. These are secure trusted partners. Here is a Comparison Chart or Check out this site for more info or contact Karen Kretschmann to discuss.
Please also stay connected with your members. Do relational "check ins". These can be by phone, facebook live, email and should include questions like "what generosity have you seen during this time?" Please do this with all members but our fundraising experts remind us that our top givers and our church council leadership are important to check in with, both relationally and financially. Often they are the folks who fund 30%-50% of a congregations income and we need them to know they matter, they make a difference, and their collective generosity will allow your congregation to thrive during these difficult times.   
There is an abundance of information and resources on the 2020 CARES Act. It does appear that churches and non-profits may be able to borrow money that could be forgiven depending on how they maintain their previous 12-month staffing levels through June. Eligible churches and non-profits will be able to borrow up to 2.5 times their average monthly payrolls and benefits up to $100,000 per employee. Funds can be used to cover payroll, benefits, employer payroll taxes, rent/mortgage payments, utilities and interest on existing debt. It is important that our churches be ready for when the loans are available. The loans will be administered by local SBA approved banks, so it would be good to contact your local bank if this is something in which we are interested as some banks already have a queue of businesses waiting "in line." Here are a number of useful links: 
FEMA Resources:
PPP Guidance Updates 6/2/2020 
For Review
Congress
UPDATED: https://www.forbes.com/sites/megangorman/2020/06/04/why-this-new-bill-will-help-ppp-borrowers-obtain-loan-forgiveness/#7c2765b048ff
https://www.forbes.com/sites/allbusiness/2020/05/31/house-passes-ppp-loan-forgiveness-bill-treasury-issues-harsh-forgiveness-regulations/#100b2e0348cb
US Treasury (Current Forms, may change)
https://home.treasury.gov/system/files/136/Paycheck-Protection-Program-Frequently-Asked-Questions.pdf
https://home.treasury.gov/system/files/136/PPP-IFR-Loan-Forgiveness.pdf
https://content.sba.gov/sites/default/files/2020-05/3245-0407%20SBA%20Form%203508%20PPP%20Forgiveness%20Application.pdf
ADDITIONAL PPP Resources
There are potentially other state funds available during this time. This Alternative Financial Aid Available for Churches document by Rev. Dave Shank offers additional options for funding: https://media.myworshiptimes4.com/wp-content/uploads/sites/57/2020/04/10111013/Alternative-Financial-Aid-Available-to-Churches-04082020.pdf

The ELCA Stewardship Staff have curated this document on Financial Giving in a Time of Crisis: FAQ and More.
Here are additional ways to continue to lift up giving and keep offering active and alive even in virtual gatherings. The Rev. Scott McKenzie, a colleague at Horizon Stewardship, shares these ideas
LEAD, Living Everyday as Disciples, in partnership with Pastor Kristin Capel, has curated a number of important Generosity resources for this time. A variety of sample ways to Communicate with Givers plus a sample for Communicating About Finances.

Another honored to partner, Linda Staats, ELCA Director of The Generosity Project, shares these important words and resources:  
1. One tool as part of The Generosity Project is the take it home resource, LIVE IT OUT! This is being offered for FREE during this time. Read the LIVE IT OUT cover letter and check out the at home LIVE IT OUT Guide.
We know that examples of generosity breed more generosity. We also know that the virus – and fear, are contagious. Is there still a place for living out & modeling the teaching points of The Generosity Project – for instance, Share. Save. Spend? How do we responsibly SHARE and care for one another in these anxious times? How do we responsibly SAVE (stock up 2-weeks worth of supplies, not a year's worth). And how will the very real challenge to people's income effect how our households, those in our communities of faith, and neighbors SPEND and pay basic bills. How can you have a culture and trusted virtual space where these conversations can take place? The attached link is to my personal blog. It is an attempt to curate resources that have been shared this week by friends and colleagues, many from leaders in cross+generational ministry. Let us remember that we are the light of Christ. May each generation reflect God's grace and generosity as God's faithful stewards in these challenging times. http://homegrownfaith.net/coronavirus-resources-for-home-congregation/
Discipleship Ministries provides some practical suggestions in this article 10 Ideas for Church Financial Leaders Amid the COVID-19 Crisis.
We will continue to add resources as they come available. If you have questions contact Karen at [email protected]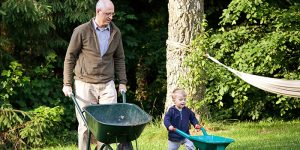 Congregational stewardship begins with a healthy understanding of gratitude and generosity. We have first received and therefore we give. Developing a culture of gratitude and generosity is the focus for growing stewards in many congregations. Through the study of Scripture, we develop a trust in God's abundance and strive to be faithful disciples and stewards. The formation of these stewards is a lifelong journey, and one in which we accompany each other.
We faithfully steward the gifts God has so abundantly given to us. Although some think of stewardship as only a financial response to God's love, stewardship encompasses so much more than money. It is about how we use all that God has entrusted to our care — our time, our talents and our treasures — to love God and our neighbors, both inside and outside of the church walls and our homes.
We invite you to look through the following resources. Use them as tools to cultivate a culture of abundance and generosity.

Luther Seminary Faith-Lead:

Center for Stewardship Leaders

is a learning hub where Christian public leaders discover how to deepen spiritual formation, engage is vital stewardship practices, build community, faithfully innovate, f

orm disciples, and create and manage new models of ministry.




Every quarter, our ELCA Stewardship staff provide news and inspiration on good stewardship practices, books and resources. Check out the Spring 2020 edition!