African Descent Lutheran Association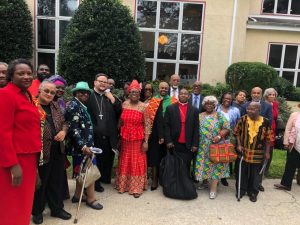 African Descent Lutheran Association (ADLA) develops and promotes connections plus support for initiatives of special interest to those within the African, African American, and African descent community.
Our Delaware-Maryland Synod has an active African Descent Lutheran Association (ADLA) Chapter focusing on engaging, involving and investing in the gifts, interests and capacity of people of African descent in every aspect of the life of this church, our synod and globally. They gather monthly as a source of information and forum for theological reflection, we strive to develop leaders, supporting mainstream involvement with the DE-MD Synod as well as the Ethnic Specific and Multicultural Ministries of the ELCA.
The goal: Full Partnership – Full Participation!
Justice & Citizenship: Commemorating Dr. Martin Luther King Jr.
The Delaware-Maryland Synod's African Descent Lutheran Association will host our annual commemoration day for Dr. Martin Luther King Jr. on Saturday, January 18 from 10 a.m.-3 p.m. at St. Mark's Lutheran Church (1900 Saint Paul Street, Baltimore, MD 21218). Lunch will be provided. Participants will have the opportunity to worship together and take part in workshops focused on voting rights, the census, and advocacy. There is no cost to attend, but registration is required.
The Blood that Unites: A Celebration of our Oneness
On September 13 & 14, the Coalition of Lutherans Advancing in Mission (CLAIM), the Racial Justice Ministry  Team, the Baltimore City Conference, and members of the Asian Association and the African Descent Lutheran Association (Baltimore Chapter) invite you to "The Blood that Unites: A Celebration of our Oneness," a multicultural gathering to review, reconnect, refocus and reemphasize our oneness as the Church of Jesus Christ regardless of our many differences.
The celebration will begin on Friday, September 13 at Peoples' Community Lutheran Church (6200 Loch Raven Boulevard, Baltimore, MD 21239) with a welcome reception at 6 p.m. followed by a multicultural/multiethnic worship service. Our Bishop, William J. Gohl Jr. will preside during the service and the very gifted and prophetic preacher and teacher, the Rev. Dr. Surekha Nelavala (Beloved Community Lutheran Church) will proclaim God's message.
On the following day, Saturday, September 14, we will return to Peoples' Community Lutheran Church for a series of workshops: Cross-Cultural Communications, the ELCA as a Sanctuary Church, Welcome Diversity in the LGBTQIAA+ Community, Sharing the Lane (youth-focused), and Strengthening Congregations/Leaders through untapped resources in the laity. During lunch, we will host a panel discussion with constructive dialog with ethnic-specific representatives around the gathering's theme: The Blood that Unites: A Celebration of our Oneness. Following lunch, the Beloved Community will sponsor a worship service at Peoples' Community with a youth and musical focus from various traditions. The Rev. Tiffany Chaney of Montgomery, Alabama is our guest speaker. Our day will end with a multicultural tasting feast and closing remarks.
There is no registration fee. Congregations and/or individuals are invited to sign on as a co-sponsor with a donation of $300 or more or less, designated for "Hospitality." Donations can be sent directly to the Delaware-Maryland Synod with "The Blood" in the memo line.
The Blood That Unites: A Celebration of our Oneness registration
      Leadership
President- Linda Chinnia
Vice President- Krystal Hamlett
Treasurer- Heather Gayle
Secretary- Mydea Karpeh
Congregation Liaison- Marian Gayle
Rostered Minister Liaisons- Rev. Eric Campbell, Rev. Melissa Lemons
Youth Liaisons- Marian Boston, John Henderson
Region 8 Representative for National ADLA-Willie Korboi
ominating Committee- Marian Boston
Meetings
Chapter meets last Friday of each month at 6200 Loch Raven Boulevard, Baltimore, MD 21239.  For specific dates and times, contact Mydea Karpeh
Annual Events
Martin Luther King Jr. Commemoration Day
ADLA Fundraising activity
To get involved, contact: Mydea Karpeh