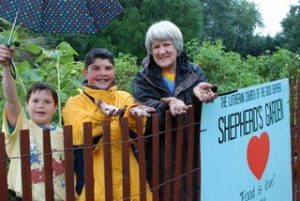 It all started with a request from the now retired director of Lutheran Community Services (LCS) Delaware, "Please plant a strip for LCS".  Lutheran Community Services supply of fresh vegetables had been drastically cut and the various churches supporting LCS were being asked to plant vegetables to help fill the gap.  This request, along with the Lutheran Church of the Good Shepherd in Wilmington, DE being involved in the LEAD (Living Everyday as Disciples) process, pushed Good Shepherd, a suburban church with ample green space, to reconsider how we use and steward our resources.
With an ideal location for a garden, funding by grants from partners including the Delaware Dept. of Agriculture and the New Castle County Conservancy and a Girl Scout working on her Gold Award project, Good Shepherd built three 4'x16' raised beds in the spring of 2017.  The Shepherd's Garden had been born.  A blessed growing season and many excited hands to work the beds allowed Good Shepherd to deliver 675 pounds of fresh produce to St Stephens Food Pantry (one supported by LCS).  Feeling like we could do more, Good Shepherd received a grant from the our Delaware-Maryland Synod through the Creation Care team and expanded the garden to seven beds in 2018.  We were able to increase our supply to the food pantry to 780 pounds.
At this point Good Shepherd had reached the maximum amount of beds that the congregation alone could tend, but there was still ample space.  We looked into the possibility of creating a community garden space where beds could be rented out to the public.  Another grant from the Delaware-Maryland Synod's Hunger Task Force and two Eagle Scout candidates working on their projects, allowed Good Shepherd to build fifteen 4'x8' raised beds.  They were quickly claimed by local neighbors with a desire to try their hand at gardening.  The requirement on the community gardeners was that they donate 10% of their harvest to the food pantry.  They well exceeded that requirement.  We are happy to report that through the this growing season, the Shepherd's Garden was able to donate over one ton of food to the food pantry!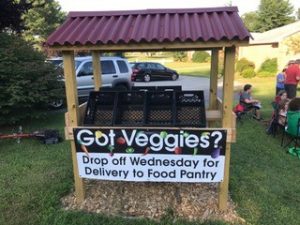 God's abundance is on full display in the garden.  It is not only about the number of pounds donated, but also the wide-ranging ministry this project created.  Many local businesses donate to the garden, area high school students are involved, and congregation members devote hours to tending the garden.  Not only is it a place for hard work, but a place of relaxation and building dreams.  We have sponsored an internship for a college student in the garden, and a small business was born there.  Our community gardeners gather and share stories, and have a desire to do more.  The leaders of the ministry have been asked to speak about faith based community gardens at the Delaware Horticulture Society by the University of Delaware.  And, our congregation is once again connected in a tangible way to our immediate community.  We don't know where the garden ministry will lead next, but following the lead of the Holy Spirit has been a wonderful experience.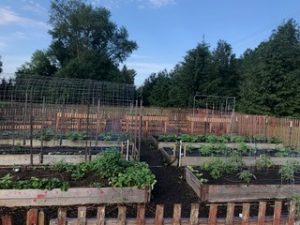 For information on how you might begin a garden ministry please contact the Shepherd's Garden at [email protected] The Lutheran Church of the Good Shepherd, Wilmington, DE.   Nov, 2019
To support either or both of our Delaware-Maryland Synod Creation Care Team or Hunger Team, feel free to Give online! At https://demdsynod.org/. Just choose the ministry you wish to fund!