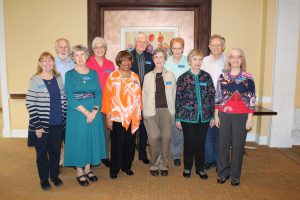 Such a joy to share the incredible ways that God is calling members across our ministries to serve as disciples of Christ!  On April 2nd, eleven residents of The Lutheran Village at Miller's Grant were commissioned as Stephen Ministers. This is the first class to be trained at the senior living community since being approved as a Stephen Ministry organization in 2018. Stephen Ministry trains lay people to provide one-to-one Christian care to those experiencing grief, illness, hospitalization, life transitions, or other life challenges.  "These Stephen Ministers will share gifts beyond casual care and concern," said Rev. Stacey Brady, Chaplain at Miller's Grant. "These relationships will be characterized by compassionate listening, regular visits, full confidentiality, and dependability."
The Lutheran Village at Miller's Grant is a faith-based, not-for-profit continuing care retirement community in Ellicott City with 205 apartments, 36 homes, 20 assisted living suites and 12 skilled care beds along Frederick Road next to the Charles E. Miller Library.  The community is currently home to over 300 residents and one of our Delaware-Maryland Partner Ministries allowing seniors to make connections through faithful interactions, uplifting activities, engaging interactions, all to captivate the imagination and heart. .
More than 13,000 congregations and organizations from more than 170 denominations in the United States, Canada, and 30 other countries utilize Stephen Ministers.  More than 600,000 laypeople have received Stephen Minister training and have provided support to more than 1.5 million people.
Learn more: https://bit.ly/2UjUHAH