Candidacy: A call from God. In the Lutheran tradition a person's call from God to public ministry is understood as both internal and external: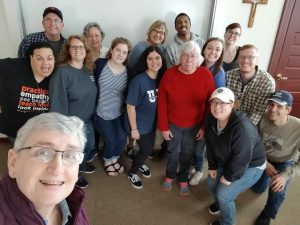 through an internal, personal sense of call that God is leading a person to public Christian ministry.
through other members of a congregation who encourage a person to enter public Christian ministry.
through public confirmation that a person has the character, commitment, preparation, and ability to serve in a public ministry roster.
through the receipt and acceptance of a letter of call to serve in a particular ministry setting."
from:  "Welcome to the Candidacy Process of the ELCA!"
Currently in the DE-MD Synod, there are thirty-five (35) candidates, many of them students at United Lutheran Seminary, in various stages of the multi-step call process. But what is the candidacy process, you may ask? The process begins by applying for entrance as a candidate to become a rostered minister of  Word and Sacrament (a Pastor)  or Word and Service (a Deacon).  The Candidacy Committee represents the larger church as both a gate-keeper and partner for each candidate as they enter and complete the many steps leading to approval and assignment of his/her call.
In the words of one of our current candidates, "The process of Candidacy is one of deep discernment, self-examination, and continual faith formation. Each step of the process is carefully mapped out to ensure that the Candidate has a full understanding of themselves, their strengths, weakness' and growing edges. Additionally, through this process, the Candidate develops a deeper sense of call, the ability to reflect on, integrate and articulate the Lutheran Faith, their commitment and their sense of call to the ministry of Word and Sacrament."
A person who feels called to rostered ministry starts by completing the multi-step ELCA application process.  Upon receiving a positive entrance decision, a "relator" (a member of the committee) is assigned to each one to guide them during their years of preparation which includes seminary coursework, Clinical Pastoral Education (CPE), Endorsement, Internship, and Approval and Assignment for First Call, each steps to become a Minister of Word and Sacrament or Minister of Word and Service. Candidates apply for entrance into seminary at the same time they are applying to their Synod Candidacy Committee.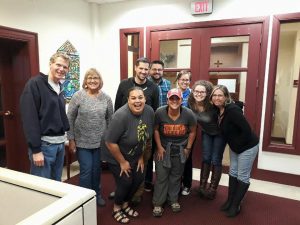 Vicar Peg Klus Marose, currently in the Internship phase of candidacy, shares, "The path of Candidacy has provided me with the opportunity to explore, stretch and live into my faith, my personal theology and my place as a child of God. Through this process, I am blessed to spend each and every day studying the Word and explore ways to share that word with the world. Each rung of the Candidacy ladder causes me to dig even deeper into the Lutheran Faith and formulate ways to articulate these teachings in preparation for a lifetime of shepherding."
Clergy and Lay Members can support the process by encouraging individuals who may have the necessary gifts to consider entering public ministry.  Prayers and encouragement of their pastors and congregations throughout the stages of their candidacy process are very much needed during this intensive time. You may also be sensing a call for yourself, talk to your Pastor or feel free to contact the Rev. Amsalu Geleta at [email protected] to assist in your discernment.
Thanks and prayers go to those serving the synod on the Candidacy Committee as they work to guide candidates to their first call in the various ministries of the church. Gratitude to the many congregations that sponsor candidates with financial assistance, prayers, internship placements. We also encourage members across our synod to support our ELCA Fund for Leaders by donating here: https://www.elca.org/Our-Work/Leadership/ELCA-Fund-for-Leaders/Give-Now.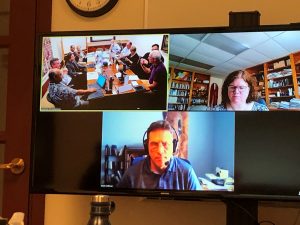 Our DE-MD Synod Candidacy Committee is comprised of a group of fourteen individuals, clergy and lay appointed by the bishop or selected as part of their position from the ULS and ELCA.  Current members include:  Rev. David Asendorf, Chair, Rev. Patrick Ballard, Rev. Martha Clementson, Rev. Dr. Joseph Donnella, Ms. Heather Gayle, Rev. Dr. Amsalu Geleta, Bishop Bill Gohl, Mr. Robert Hahn, Mrs. Leslie Hobbs, Candidacy Coordinator, Rev. Kathleen Ierien, Rev. Virginia Price, Deaconess Jean Warren, Rev. Dr. John Largen, ULS, Rev. Dr. Paul Baglyos, ELCA. Here they are meeting both in person and virtually!