35,000 meals packed! Such incredible connections and work happening in our synod supporting local hunger needs. This story celebrates the service that happened on God's Work, Our Hands Sunday in Baltimore City and Baltimore County in coordination with CLAIM and 24 churches that packed 25,000 meals, but also proclaims the efforts of just one congregation, Good Shepherd, Frederick, who last week packed 10,000 meals. Together we do God's work with Our Hands all year long!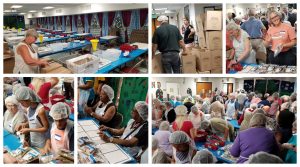 We begin hearing about the meal packing that happened in Baltimore in September. Each year, individual churches take the time to plan projects for God's Work, Our Hands Sunday. These are normally programs that are designed to help others. In March 2019, CLAIM (Coalition of Lutherans Advancing in Mission) launched a plan to bring together churches in Baltimore and Baltimore County to provide 25,000 meals to schools, churches, and organizations in the area. We needed to raise $6,250, recruit 100 volunteers and identify places that could use the meal packets – by September. Throughout the Summer, 24 churches worked diligently to reach our goals and The Hunger Task Force provided a grant of matching funds of $3,125. St. John's in Parkville offered to host this event and The Outreach Project agreed to help by delivering the supplies and providing guidance in packing the meal packets. On God's Work, Our Hands Sunday September 2019, nearly 180 volunteers from 24 churches gathered together to package 25,000 meals! People from 8 to 80 years old worked diligently to accomplish this mission. What an amazing site to see such a diverse group of people coming together to help those in need! People were having fun, laughing and getting to know each other as they worked toward a common goal. As volunteers were leaving, many asked if this was something they could do again, expressing their joy and fulfillment.  A local service sorority group told us how much they enjoyed working on this project and how pleased they were to have donated their time and money to the project. More than 23 churches and organizations received packets for distribution.  These are being given out in food pantries (many in our own churches), area assistance centers, homeless shelters, feeding programs, and schools.  Rev. Sandra Alexis (First English) took packets to a local school. "When Lans and I took the packets over, the staff at Barclay School said they were happy to have something to pass out to students in need. Having a supply of meals that were shelf stable gives them the flexibility to keep them on hand until needed. They said weekends and holidays when schools are closed can be particularly tough on some of the students".  Thanks to the generosity of so many, more than $5,800 was raised in addition to a generous grant from the Hunger Task Force.  To ensure that these funds are used for programs providing food to those in need, CLAIM is accepting applications for grants to churches located in Baltimore City and those located in Baltimore County, near the Baltimore Beltway to begin new programs or enhance existing programs to provide nutritional meals in their community. This how we are connected and care for our communities. Learn more about CLAIM at: https://demdsynod.org/claim/ or donate to CLAIM by going to our synod site and clicking on the Give On Line: https://demdsynod.org/ and choose CLAIM.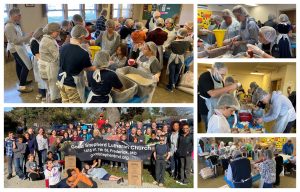 It's important to know though that individual congregations can also do meal packing events. Again, this Fall, Good Shepherd, Frederick, had a meal packing event on November 3rd. After services, the youth and social ministry folks coordinated this meal packing event. With 50 volunteers assisting, including people of all ages from elementary aged children to retired adults, men and women, members of Good Shepherd and members of the community, Good Shepherd packed 10,000 meals that filled almost 50 boxes of meals. These meals will be picked up and distributed by the Frederick Foodbank which is operated by Frederick Community Action Agency (FCAA). Good Shepherd was able to fund this incredible hunger ministry by raising over $900 through VBS and other donations plus an additional $300 came in from the sale of the cool Jeep bed we used as a photo booth to promote VBS. Plus in Partnership with Good Shepherds Social Ministry Team, all money donated to Gift of Love in the month of October was put towards the meal packing event. Learn more about the great work of Good Shepherd, Frederick at: https://www.goodshepherdmd.org/
Learn more about our synod Hunger Task Force at: https://demdsynod.org/connectedness/hunger-task-force/ or offer a donation by going to our synod site and clicking on the Give On Line: https://demdsynod.org/ and choose Local or ELCA Hunger.