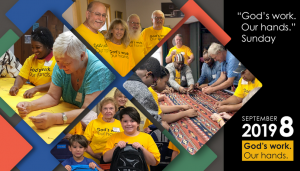 "Each of you should use whatever gift you have received to serve others as faithful stewards of God's grace in its various forms."  1 Peter 4:10
Practice and celebrate who we are as ELCA: one church, freed in Christ to serve and love our neighbor.  The ELCA encourages congregations to "be the church and serve the community" by planning service projects that can be completed on God's Work Our Hands Sunday.  Your church may choose to do one large event, several smaller activities or join with other congregations in your conference to broaden your reach. Just look to meet needs in your community.
This year God's Work Our Hands (GWOH) is September 8, 2019.  We are excited to see what our congregations across Delaware and Maryland will engage in on this day along with congregations across the ELCA.
Past congregational activities have included:
Assembling care kits for homeless people
Doing assorted household chores (painting, yard work, window washing, garage cleanout) for those in the community who don't have the health or financial resources to care for their homes
Installing a garden at a non-profit shelter
Handing out bottled water at a community event
Providing a birthday party for residents of a nursing facility
Pick up trash along a road or in a park
There are several online resources for GWOH Sunday available including a tool kit, bulletin inserts, press releases and post cards to invite others to join the activities. Having the same T-shirt for each person participating is a great way to tell others who we are. These are available online. To personalize them with the name of your congregation, the deadline is August 13, 2019.
If you can't participate on September 8, choose another time!  See www.elca.org/dayofservice for more information.