To help those suffering from drug addiction, it is imperative that we engage, educate and train our church body about opioid addiction and overdose. This crisis is in our communities, our congregations and our homes. As faithful people, we must not ignore this crisis but rather live out the words of Matthew 25: 35-36 tells us:
"For I was hungry and you gave me something to eat, I was thirsty and you gave me something to drink, I was a stranger and you invited me in, I needed clothes and you clothed me, I was sick and you looked after me, I was in prison and you came to visit me."
We show the love of Jesus by accepting and supporting people in active addiction. We do this by connecting with people in the midst of the realities of where they are in their life and open the possibility of recovery and building relationships with them throughout their recovery journey. This ministry can only succeed by building relationships across our synod for those being affected by the opioid crisis connecting people to each other, to the greater church family, and to our communities.
The facts are before us:
Maryland is among the top five states with the highest rates of opioid-related overdose deaths with nearly 29.7 deaths per 100,000 persons were related to opioids—including prescription opioids, heroin and fentanyl—compared to the national rate of 13.3 deaths per 100,000[1] and Delaware has the 13th highest for opioid-related overdose deaths at a rate of 16.9 deaths per 100,000 persons—compared to the national rate of 13.3 deaths per 100,000[2]; and reported the second-highest percent increase at 105% in suspected opioid overdose emergency department visits from July 2016 to September 2017[3].
The CDC indicates that the average life expectancy in the United States has declined for the second time in three years primarily due to deaths from drug overdose and suicide, with more than 70,000 drug overdose deaths reported in 2017[4].

Of people entering treatment for heroin addiction who began abusing opioids in the 1960s, more than 80 percent started with heroin. Of those who began abusing opioids in the 2000s, 75 percent reported that their first opioid was a prescription drug[5].
86 percent of young users had used opioid pain relievers nonmedically prior to using heroin, and their initiation into nonmedical use was characterized by three main sources of opioids: family, friends, or personal prescriptions[5].
The Delaware-Maryland Synod Opioid and Addiction Team is calling us all to participate in this essential ministry.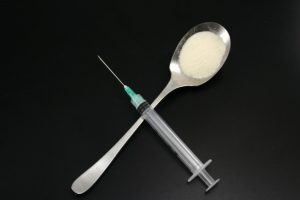 On August 24th, our synod will be offering a Faith-Based Response to the Opioid Crisis and Other Addictions training. Please join others in the Delaware-Maryland Synod to work faithfully to fight the greatest health crisis facing our nation: addiction to drugs and alcohol.
This event will help individuals, congregations and organizations grow in their knowledge of this crisis and work on plans for a strategy in your context. All ages, genders, races are being affected. We ask, how will your congregation have a faithful response? This time together will include presenters from the ELCA, US Drug Enforcement Administration and provide Emergency Overdose Response Training, as well as connected us together to share, support and empower each other to work to address this crisis.
The event will be Saturday August 24, 2019 from 9:30 am – 1:30 pm at Salem Evangelical Lutheran Church (905 Frederick Rd. Catonsville, MD). A light lunch will be included. Cost is $15/person or a max $60 per congregation/organization so bring a group! Childcare will be provided, and you must pre-register.
CLICK HERE TO REGISTER and share this flier throughout your congregation and community!
Pray about your engagement in this national crisis who will you invite to join you in this event and important work.
______________________________________________________________________________________________________________
Sources:
[1] Maryland Opioid Summary. National Institute on Drug Abuse. https://www.drugabuse.gov/drugs-abuse/opioids/opioid-summaries-by-state/maryland-opioid-summary
[2] Delaware Opioid Summary. National Institute on Drug Abuse https://www.drugabuse.gov/drugs-abuse/opioids/opioid-summaries-by-state/delaware-opioid-summary
[3] Delaware ED Data Shows Significant Increase in Opioid Overdoses; DPH Announces Forum for First Responders and EDs to Address Overdose Management. March 7, 2018. https://news.delaware.gov/2018/03/07/delaware-ed-data-shows-increase-opioid-overdoses/
[4] https://www.aafp.org/news/health-of-the-public/20181210lifeexpectdrop.html
[5] https://www.drugabuse.gov/publications/research-reports/relationship-between-prescription-drug-heroin-abuse/prescription-opioid-use-risk-factor-heroin-use