Today we lift up the connection we have with those who face physical, mental, or neurological struggles. Our Definitely Abled Advocacy and Resource Team (DAART), chaired by Pastor Sandra Carlson Alexis, seeks to offer online resources to congregations and members who are looking for ways to include those who navigate life a little differently. Being welcoming may mean making bathrooms accessible or improving your sound system but it can also mean opening your hearts to include the gifts and talents of someone with down syndrome or autism. Each year the synod has a possABILITY Sunday for churches to encourage participation of all abilities where we can connect and use the gifts of all.
Through this partnership, together we can: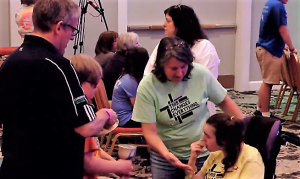 Welcome all people warmly and without hesitation. We are a church that belongs to Christ. There is a place for all.
Use language that honors and respects the individual person, language that puts the person first — "person with a disability."
Get to know people as people — not as labels, problems or diagnoses. Learn about a person's interests & gifts.
Ask if a person needs help, before taking control and offering assistance.
Encourage all people to grow in their faith and their spiritual practices, and to use their gifts for the good of the church.
To learn more, get involved and to access resources, go to https://demdsynod.org/connectedness/definitely-abled-advocacy-and-resource-team/