A story of how Calvary Lutheran in Mount Airy connected community members and families in need together!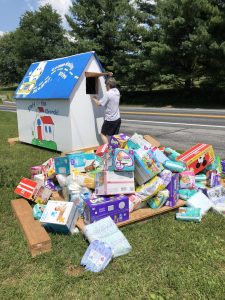 A church stuffed with diapers? Whatever led to such an idea? It all happened in a very unusual way…but a way that served a need much greater than many of us realized.
Two years ago, several members of Calvary Lutheran Church in Mt. Airy decided to build a small 8 foot by 4 foot by 4 foot "mini" church to use as the focal point for a float for the Mt. Airy Fire Company's parade. After using this small church for two years in the parade, it was decided that it might be nice to find a more purposeful use for the building. Similar to the "stuff the bus" program that occurs in numerous communities for the purpose of collecting school supplies, a member came up with the theme to "stuff the church". With the help of others, the idea took off and plans were made.
After exploring many possibilities as to what to collect, diapers was the answer. "I was driving down the road thinking about what we could put in the church that, along with being a need, could withstand being tossed in through a drop box. Then it hit me…diapers! It was certainly a 'God moment'," shared Patti Cannaday, Calvary Lutheran Church member. "I contacted several organizations to verify the need and all expressed how often they are running low on this much-needed resource. In addition, I learned that food stamps and WIC benefits can't be used for diapers."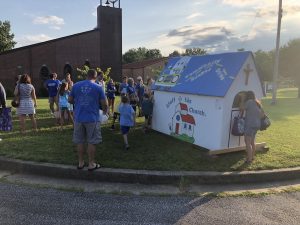 A two-week community drive was held in July. Congregational members, friends, and neighboring residents donated. Participants from the church's Vacation Bible School were also encouraged to support this drive. The response was overwhelming and the result was a stuffed church with the "big reveal" taking place the last day of the drive. Four truck loads of diapers, wipes, and pull-ups were delivered to the following organizations: Mt. Airy Net, Morgan Chapel Food Pantry, The Religious Coalition for Emergency Human Needs, Human Services of Carroll County, and the Howard County Diaper Project.
Patti summarized, "We learned that we are so blessed to be a part of a caring community. We recognized a need and responded. What a blessing! I encourage other churches, businesses, and civic organizations to consider organizing a diaper drive. What a gracious way to show our love and support to our community's most vulnerable population."
Share with us your stories of connecting with families to provide diapers, wipes and other needed items!