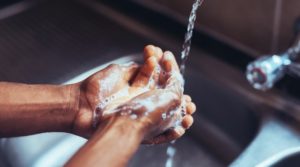 During this continued pandemic, we know wearing a mask and hand washing are essential. Some of us find that 20-second hand washing feels like a long wasted time, so today we encourage you to live in this moment by praying. Praying in lamentation, praying thanksgiving, praying the prayer our Lord taught us. Here are some options.
LAMENTATION
(taken from Rabbi Joseph Meszler: https://reformjudaism.org/practice/prayers-blessings/20-second-prayer-during-handwashing)
As I take up my hands to wash them and reassure my heart,
I pray for healing and wholeness for the whole world.
I remember that every life is unique and of infinite value:
from those living on the most remote part of the globe to those in our cities
to our neighbors and family members.
Let me use my hands for good to help bring love and compassion to others.
"Let us lift up our hearts and hands to the Eternal." (Lamentations 3:41)
THANKSGIVING
(taken from Jess Wolstenholm – Bible + Faith Kids + Parents: https://www.gominno.com/blog/20-second-bible-verses-to-say-while-washing-your-hands)
For God loved the world so much that he gave his only Son. God gave his Son so that whoever believes in him may not be lost, but have eternal life. God did not send his Son into the world to judge the world, but to save the world through him". John 3:16-17 ICB
OR
"Don't worry about anything; instead, pray about everything. Tell God what you need, and thank him for all he has done. Then you will experience God's peace, which exceeds anything we can understand. His peace will guard your hearts and minds as you live in Christ Jesus." Philippians 4:6-7 NLT
THE LORD'S PRAYER
(taken from Pastor Kara K. Root: https://faithandleadership.com/kara-k-root-20-second-gift-washing-your-hands)
"Our Father, who art in heaven …" – I feel the strength in my fingers, the flexibility, the sensitivity to touch and sensation. My hands do so much, and I take them for granted. Thank you, hands. Thank you, God, for my hands.
"Thy will be done, on earth as it is in heaven." – Around this point, my hands begin to feel sudsy, velvety and a little tickly, as if wrapped in a soft blanket…I let myself enjoy it. How full life is of these small sensations! These little, unnoticed blessings of being embodied creatures!
"Forgive us our trespasses, as we forgive those who trespass against us." – My mind unclenches a little. It snaps to the phone call I've been replaying in my head for weeks. I feel the tension in my throat and the tender, wounded anger I've been nursing — let's face it, cherishing. I think about the tone in her voice, the dismissive way she treated me. It rises up and balloons in my chest as it has in the car, in the bed, in the shower — anytime I am still long enough for it to catch up and invade me again.
But this time, I face it squarely. "Forgive us …" — "Forgive me … as I forgive …" – It breaks apart a little, dissipates. She doesn't know me. I don't need her to understand me. We are both doing our best with our days, with our lives. Beloved children of God, both of us. All of us.
Maybe I can let this go. Maybe I can wash my hands of it and let it go.
"For Thine is the kingdom, and the power, and the glory, forever." – The water is warm. I rinse off the soap. In just 20 seconds, my hands feel clean, and my mind and heart feel renewed.
"Amen."