by Bishop Bill Gohl
"Let us go now to Bethlehem and see this thing that has taken place, which the Lord has made known to us." So they went with haste and found Mary and Joseph, and the child lying in the manger. – Luke 2:15b-16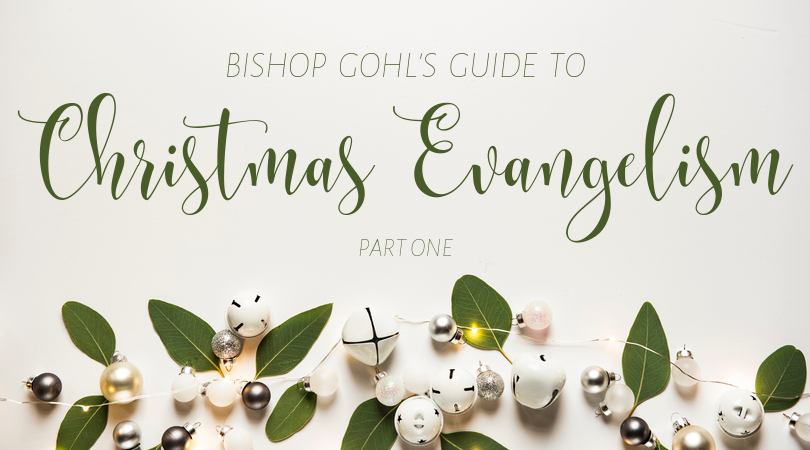 Christmas, the celebration of God's incarnate love for us in Jesus Christ, provides the Christian Church an incredible opportunity for evangelical outreach. Even in our secularized world, there is a thread of understanding that surrounds Christmas as a holy time when God comes near to us. Our music, scripture, and message are not-so-foreign and hearts, it would seem, are yearning for the Good News that we celebrate in Jesus Christ.
According to George Barna, America's most reputable religious pollster, Christmas Eve is the night when unchurched friends, family, and neighbors are most likely to respond positively to an invitation to worship. In my time as a parish pastor, and in my work as Bishop's Staff for Evangelism, I learned a great deal about how we can prepare to welcome guests at this holy time, and be our best, most hospitable selves. This post is the first of a two-part series in which I will share what I have learned so that you might use it in your congregation or ministry setting.
It's time to assemble two, three, 10 or 20 people to begin to PRAY for your Christmas outreach. Ask for volunteers to be in daily prayer during the season of Advent for God to lead new people to this congregation's services this Christmas (a fine ministry for shut-ins to be involved in, too!).
With the help of your worship committee or council, think about the many activities your church shares during the holy days of Advent and Christmas. Are there events such as the Sunday School Christmas Program, a Choir Cantata, Christmas Bazaar, etc., where you would have a chance to make a brief but meaningful invitation to friends, family, and neighbors to attend Christmas services?
With the help of your Evangelism Committee, PR Team, Communications people, staff – anyone – make a commitment to do a few things this year in advance of needs for next year…
Archive appropriate pictures of Christmas events for publicity purposes. And please, not just beautiful, but empty, church altars! Think happy, smiling people; a child caught in the glow of a candle; people holding hands as they pray; kids at a children's sermon, etc. You may want to consider collecting photo release forms from families who attend frequently and are featured in photos. You can read more about releases and download some samples that you can adapt here.
Capture video of similar kinds of moments, if not entire events, for editing and examples.
Debrief immediately. A former colleague and I would sit down the week after Christmas with the bulletins from each event and go over what went well and what didn't – and then we would do it again with our worship committee. Make edits in bulletins immediately (don't wait, we had the word "worm" instead of "womb" two years in a row in our Christmas Eve bulletins! Yikes!).
Make business-card size invitations to Christmas worship. A good number would be eight times the number of people who currently worship on an average weekend. An invitation might include information like this: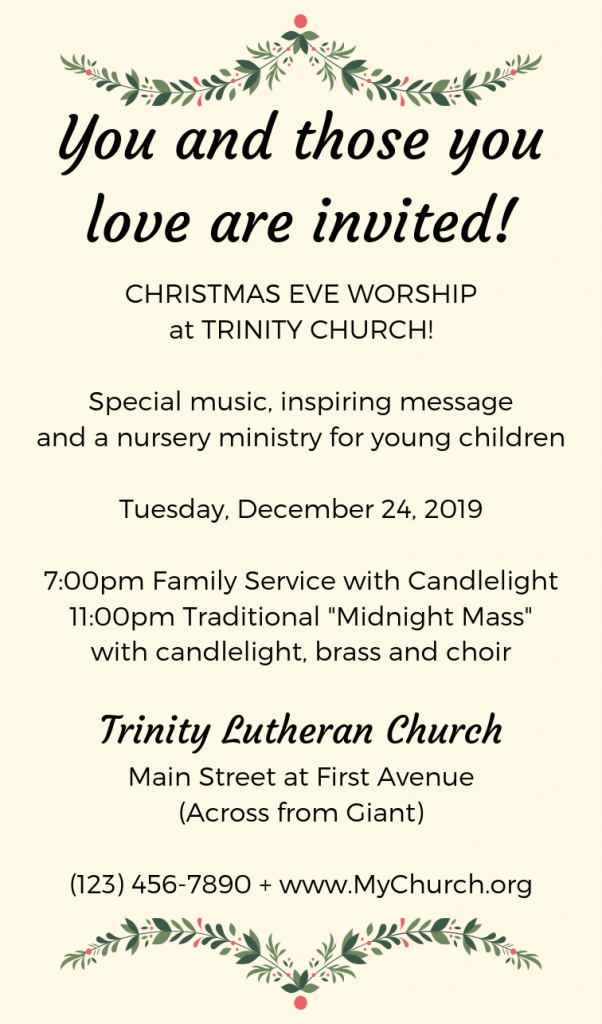 The text reads:
You and those you love are invited!
CHRISTMAS EVE WORSHIP
at TRINITY CHURCH!
Special music, inspiring message
and a nursery ministry for young children
Tuesday, December 24, 2019
7:00pm Family Service with Candlelight
11:00pm Traditional "Midnight Mass"
with candlelight, brass, and choir
Trinity Lutheran Church
Main Street at First Avenue (Across from Giant)
(123) 456-7890 + www.MyChurch.org
You can access the template for the image above here and update it with your church's information. You can have business cards printed through your preferred local printing business or online services like Vistaprint.
On the four Sundays of Advent, distribute two cards to each worshipper (have the ushers pass them in a basket, have the kids help as part of the children's sermon, have greeters give them out as people enter, etc.). PRAY PUBLICLY over those cards in worship, and ask folks to pray quietly who God would have them share that invitation with in the week ahead. Explain that the best invitations to church come from a friend or family member, and remind them that one in every two people do accept an initial invitation to church from a friend! Do not put these invitations in the bulletin! Hand them out! Make a big deal about them! And, DO give them to children! They are our boldest evangelists! Perhaps you might suggest a particular group of folks to pray for or invite each week of Advent (ie: coworkers, classmates, neighbors, family friends, etc.).
Change the signs in front of the church (and the message on the answering machine!) to reflect a Christmas invitation two or three weeks before Christmas.
Schedule a "neighborhood storm" for your immediate neighborhood, a local housing development or apartment complex, etc., the Saturday prior to Christmas. Invite a few hearty folks to join you in walking the neighborhood and distributing doorknob hangers or flyers announcing Christmas worship to homes in your area. Include a brief, accessible word about the real meaning of this time of year. Emphasize Christmas worship opportunities clearly, resisting the temptation that "more is better" and losing people who've never heard of Advent or (and yes, I've seen this on a sign) The Holy Innocents & Martyrs!
BEGIN THE "STORM" WITH PRAYER! Ten people can easily distribute 1,500 doorknob hangers in 45 minutes or so depending on your context. This is a great way to involve youth and those who are off from work on Saturdays. Note: Doorknob hangers can be made at any quick-print center or in house in a variety of ways. You can also use this template to create a small door hanger on Vistaprint).
Work that bulk mailing permit! Have nice postcards made – thousands of them. Buy, or create, a neighborhood mailing list. OR Use EDDM (Every Door Direct Mail) where you choose what streets in which zip codes receive your mailer! Use extras as invitations to hand out, "storm" community events, etc. Mail them early enough to get to the neighbors the week before Christmas. Mail extras (first class) to every guest you've had in the last five years, inactive members, friends, "alumni," etc. You can find a template here.
Invite your community to worship through the newspaper, radio, cable access TV, and community signboards. Perhaps you can share the announcement (and costs) with other churches in your neighborhood or conference.
Have a colorful vinyl banner made to put out in front of your church. Use big letters to make a big, and noticeable invitation! Banners such as these are made in two or three days at a place like FastSigns or Office Depot and cost about $150. You can get them even more reasonably if you plan ahead – places like Vistaprint offer them for as low as $29. They can be stored (rolled, not folded) and used again next year! Signs should be perpendicular to the road, not parallel!
Seize Christmas as an opportunity to contact every local visitor from the past year with a card or letter and a phone call! Invite them to join you again for worship on this special day.
Make sure your worship is as "visitor-friendly" as possible on Christmas Eve.
Prepare ushers and greeters on greeting guests (ie: "Welcome to Trinity! I'm Jane, I don't think I know your name!" as opposed to "Hi! Are you a visitor?").
Perhaps you have a few hearty youth or families who would be willing to tend the parking area, directing folks to guest-area parking or open spots.
And speaking of the parking lot – or the entrance area – perhaps there are a few folks who might be encouraged to dress festively and sing or play carols of the season prior to the services. Perhaps, if this is a bit over the top for your folks, how about some "piped-out" Christmas music from a CD player or bluetooth speaker hidden behind a poinsettia!
Make sure, at least on this day, that the entrance to the church is clear to those coming from both the parking lot and the street! Don't assume "everyone knows" that, to get in from the parking lot, you must walk through the Sunday School!
Make sure bathrooms are clean – really clean – and there are places for changing diapers readily apparent and available in all restrooms. A little "baby emergency" box at these changing stations sends a strong message, too, even if the supplies are not needed.
Prepare a small gift bag for guests that have information about your church to share with guests as they come into worship. Perhaps you might include a little package of candies or an inexpensive Christmas ornament (ie: from Oriental Trading or Autom).
Prepare the congregation a few weeks in advance asking folks to "sit forward and sit toward the center" on Christmas so that guests can get the "best seats in the house" – on the aisles and in the rear half of the church!
Make sure the bulletin presents the worship service in a "user friendly" way. Don't use insider language like "ELW," "LBW," or "WOV" (Red Hymnal, Green Hymnal or Blue Hymnal would be better!). Perhaps today you could print the service in its entirety or at least the service and reference the hymns in the hymnals. This would be a night where, since the tunes are familiar, you could get away with printing simply the words of most hymns and carols.
Sing "singable" hymns and songs that are festive, theologically sound (don't violate the "truth in packaging" laws!) and that your "regular" congregation will sing with gusto! Resist the need to do a "best of Martin Luther's Christmas Music" hymnfest. Introduce less familiar hymns, like "Of the Father's Love Begotten" or "Once in Royal David's City" with a soloist, choir or cantor alone on the first verse.
Keep "insider" announcements to a minimum on this day – and do remember to highlight in the first printed announcements where restrooms are, as well as any nursery or children's ministry information. Don't forget to welcome guests specifically and tell them you are glad they came!
Highlight your children's ministries in appropriate ways. Perhaps the children's choir might sing an anthem or a few from the Sunday School could act out a Christmas tableau as the Gospel is read.
An easy children's sermon idea: purchase a quantity of inexpensive Christmas ornaments that echo a theme of the Gospel. Have a crafty person print the name of the church and the year on the ornament. You will have a place on the family tree forever!
Clearly print an invitation and instructions for communion within the bulletin (not buried in the announcements where no one will see it in a timely manner!).
Prior to the last hymn, invite guests to help continue the celebration over coffee and treats. An easy fellowship time might be arranged with a large crockpot filled with plain old apple cider and a few plates of Christmas goodies pilfered from the pastor or deacon's usual Christmas haul or recruited from the kitchens of your most diligent bakers. Invite them to another event, too, don't miss the opportunity!
Use "guest" as opposed to "visitor."
Use cards in each bulletin or a pad or clipboard in each pew and ask people (perhaps prior to the offering?) to "sign in" so that the church might better know and serve them in the days ahead. Do this as part of the service and invite folks to "note the names of those sitting around you so that you can greet each other by name following the service." Do not simply depend on the guest register in the narthex to collect information! And yet … DO NOT ASK GUESTS TO STAND UP AND IDENTIFY THEMSELVES AT WORSHIP! This is very intimidating and can be very embarrassing.
Collect as much information, in as many ways as possible – pew envelopes, attendance cards, sign-in boards, guest registers. And, respectfully, use this information!
Ask a few of your most friendly folks to be ushers inside the nave, welcoming guests.
You don't need to "dumb down" for evangelism! Be yourselves in worship and invitation, but be your best selves! God is doing good things at your church! Tell them!
FOLLOW UP! Within a day or so, respond to those who have shared information with you. A phone call and a card at least, a visit is better. Perhaps drop off a Poinsettia or a plate of cookies or a loaf of good bread with a brochure and an invitation to come back again next week!
Make sure you follow up on the second and third visits, too. Barna's research suggests that when such follow-up takes place: 21% of first-time, 28% of second-time and 57% of third-time guests join the church they visit. Adam Hamilton, pastor of the Church of the Resurrection (UMC), Leawood, Kansas, suggests a pattern (for congregations that have fewer than 350 in worship each week) that has worked well for me. First-time guests receive a five-minute "stop-by" visit on Sunday afternoon from the pastor or deacon with a mug and brochure as well as a phone call from a lay leader by Wednesday evening (I've used a shut-in who enjoys making calls). When someone visits a third time, they receive a call from the pastor or deacon asking if they can come for a visit. That 30-minute visit, which ends with prayer, is often an important moment that begins to give foundation to the relationship between a church leader and parishioner.
You know your context best, so use as many or as few of these ideas as you'd like – they are what I have found to be effective and achievable in my previous contexts. And keep an eye on the blog, because next month, I will share some of my suggestions for using social media as evangelism ahead of the Christmas season!
In that region there were shepherds living in the fields, keeping watch over their flock by night. Then an angel of the Lord stood before them, and the glory of the Lord shone around them, and they were terrified. But the angel said to them, "Do not be afraid; for see — I am bringing you good news of great joy for all the people: to you is born this day in the city of David a Savior, who is the Messiah, the Lord. This will be a sign for you: you will find a child wrapped in bands of cloth and lying in a manger." And suddenly there was with the angel a multitude of the heavenly host, praising God and saying, "Glory to God in the highest heaven, and on earth peace among those whom he favors!" When the angels had left them and gone into heaven, the shepherds said to one another, "Let us go now to Bethlehem and see this thing that has taken place, which the Lord has made known to us." So they went with haste and found Mary and Joseph, and the child lying in the manger. When they saw this, they made known what had been told them about this child; and all who heard it were amazed at what the shepherds told them. But Mary treasured all these words and pondered them in her heart. The shepherds returned, glorifying and praising God for all they had heard and seen, as it had been told them. – Luke 2:8-20