The Racial Justice Ministry Team was established to provide an opportunity for congregations, teams, and other organizations of the Delaware-Maryland Synod to gather for the purpose of strengthening our collective and individual resolve in addressing the sin of racism.  This ministry is about being inclusive, not exclusive, to create a climate of peace, justice, freedom and dignity that embraces all people. A climate that provides opportunities for growth, leadership, empowerment and advocating for policies and programs that are socially and racially just.
The Racial Justice team meets regularly to review and discuss the latest literature and information on social justice and plans ways to incorporate this information into activities, workshops, and other opportunities to share across our synod. Some of the ways include:
Provide tools to help identify how and where race is playing a role.
Offer a deeper understanding of how race/racism operates in each other, in congregations and in society as a whole.
Plan events to expose folks to systems and structures that lay into racism.
By naming "racism", we are free to discuss it, learn from it and overcome it.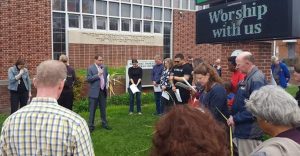 (Palm Sunday Way of the Cross Racial Justice Ministry Team pilgrimage along Harford Road, 4/14/2019)
If your congregation or organization would like to learn more about racial justice, the team will share information and provide workshops upon request. Please contact the chair of the team, Rev. Patrick Gahagen at Journey of Faith (410 655 5250) or at [email protected].