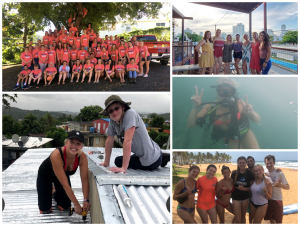 The following is a reflection from Meg Blodgett, a young adult from Baltimore (Maryland), another one of the volunteers working in Puerto Rico this week to aid in recovery from Hurricane Maria. From last week through the end of this week, volunteers will serve and support as a part of the Building Puentes initiative with the Caribbean Synod, the Metro D.C. Synod, and our Delaware-Maryland Synod. A few of them will be reflecting on their experiences, and we will share them here on our blog.
"The best way to find yourself is to lose yourself in the service of others." -Gandhi
I stared at this quote found in a chapter of the book I was reading after taking my seat on the crowded plane heading towards San Juan, Puerto Rico on Sunday, July 21st. I had been up since 5 a.m. and was excited to start my trip. For the next two weeks, I would be living at a Lutheran camp in Dorado where I would be serving the people of Puerto Rico, working beside them to help rebuild their communities after the damage caused by Hurricane Irma & Maria in the fall of 2017. I would be joined by as many as 60 other volunteers in our mission to provide support and explore this beautiful island together.
As the boarding process completed and the airplane began our ascent towards our destination, I continued to ponder the experiences that I was bound to have during this trip; my first extended mission trip. Gandhi said that we figure out who we are and what we want best when we help others. I desperately wanted to figure out who I was and what I wanted in my life and was hoping that this trip would provide me with the clarity that I needed to get some answers to my questions. How do I know who I am and what I'm meant to do? I've been waiting for this trip for nine months and, selfishly, am glad that it came at an important time in my life … a time of transition.
As a young adult, change is inevitable and constant. For the last few months, I have felt that I have been going through this change and am unsure where my life is leading me. Do I go back to school to get my Master's Degree? Do I move to that one city I've been thinking about for months? Do I change careers? Am I happy with how my life is now? What do I need to do to be ready to make that big, life-changing decision?
With these questions and Gandhi's famous quote in mind, I began my first service week in Puerto Rico. It was more than I could have ever hoped for. I was able to meet so many amazing people at the Lutheran camp, through my work team to my bunk-mates (shout-out to you ladies for always making me laugh and putting up with my constant food puns) to the people of Puerto Rico that I helped with our service work.
As I continue through my second week of service, my experiences of this beautiful place have multiplied. I went surfing for the first time, overcame my fear of heights as I fixed roofs all week, became an expert on using power tools, learned how to find supplies and navigate independently through a Home Depot, went scuba-diving, and learned how to salsa dance.
The diverse culture and experiences that I have encountered in Puerto Rico have caused me to want to leave my comfort zone and try new experiences, meet new people, and take risks. As my time in Puerto Rico comes to an end, I have realized how important going on mission trips and serving others is to me. With Gandhi's quote still in mind as I write this blog post, I can only imagine a future that involves my participation in mission trips and serving others. God has a plan for each and every one of us. Through prayer and participating in this trip, I believe I've found mine. I hope you have the courage and determination to find yours as well.
"All we have to decide is what to do with the time that is given to us." -Gandalf, Lord of the Rings