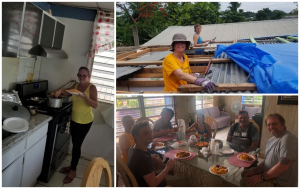 The following is a reflection from Pastor Christine Parker, Interim Lead Pastor of Epiphany Lutheran Church, Baltimore (Maryland), another one of the volunteers working in Puerto Rico this week to aid in recovery from Hurricane Maria. From last week through the end of this week, volunteers will serve and support as a part of the Building Puentes initiative with the Caribbean Synod, the Metro D.C. Synod, and our Delaware-Maryland Synod. A few of them will be reflecting on their experiences, and we will share them here on our blog.
By lunch on our first day of work, I was so eager to figure out this family whose house we were working on. Are they related? How are they related? Their houses are connected. Are they housing one another? Is anyone living in the part that's perpetually leaking? There was a rather damp bed that looked like it was in use. When they clearly can't be in there, where do they go? I needed to define these people, which I had limited capacity to do because… no hablo mucho español.
My role, on the other hand, and the role of those I was working with, was clear. We are the helpers, the fixers, expecting nothing in return, except hopefully a really good story – tell me who you are, how you faired in the hurricanes, who has stayed, who has gone, who's working, who's not. As a pastor, I'm so used to people pouring out their stories. What a privileged position.
That night our devotion focused on 1 Corinthians 12, where Paul used an analogy of the body to talk about how each of us has different functions, different gifts, different roles, but together we make up the body of Christ. It's a beautiful image. But, as I reflect on our time so far, it just feels too simplistic. Life is more complicated than that. Our roles are fluid, interconnected, ever-changing. Maria, the owner of the house, had to not just be helped, but provided encouragement, guidance, and homemade snacks in the afternoon. We needed Tormod to not just be the super-skilled brains behind the operation, but also our encourager, stepping back so others could step up. I needed to stop expecting people to pour out their stories to me, and let things enfold in such a way that everyone has dignity as the keeper of their own story.
As I sit here at breakfast, about to head out for another day of work, I still hope I'll get more of their story. But, more, I hope that God might form us into a more complete body – complicated, messy, ever reforming, diverse. And you who are reading this from home or work, you too part a part of that more complete body, by your prayers, by informing yourself, by passing on the story of what God is up to here in Puerto Rico with "Building Puentes" – "building bridges" – for "if one member suffers, all suffer together with it; if one member is honored, all rejoice together with it" (1 Corinthians 12:26). Share in the sadness for a people eager for change and hope, having been largely forgotten in the states. Rejoice in the community that God is forming one nail at a time, one homemade chicken tender at a time, one story at a time.