The following is a reflection from Sharon Stromberg from Frederick, one of the volunteers working in Puerto Rico this week to aid in recovery from Hurricane Maria. Over the next weeks, volunteers will serve and support as a part of the Building Puentes initiative with the Caribbean Synod, the Metro D.C. Synod, and our Delaware-Maryland Synod. A few of them will be reflecting on their experiences, and we will share them here on our blog.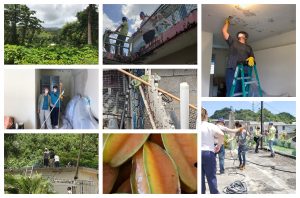 Tuesday was our first day on our work sites. When I talked to people this evening, I heard all kinds of stories. Some groups experienced logistical challenges with tools or supplies. Others learned the joys of concrete construction: jackhammering out old windows; power-washing, sealing, and priming flat roofs.
Here are some reflections on our day:
Our group had a very special "God moment." We needed to clear brush away from a doorway, but didn't have any tools that would do the job. Then someone noticed a rather rusty machete lying on the ground nearby. It proved to be quite sharp and exactly what we needed.
A couple of our youth made friends with the 5-year-old who lived in the home where we were working. Despite the fact that he spoke no English at all, they wound up playing with him for quite some time. We could tell that it really made his day. I'm sure he will never forget us.
Several ladies in our group were busy hauling 4×8 plywood sheets up the 55+ steps to our work site. A bunch of pre-teen kids came by on their way back from a VBS program. They felt sorry for us working so hard and pitched in to help finish the job. We were very grateful!
The home we worked on belongs to a gentleman who is bed-ridden due to a spinal injury from an auto accident. He enjoyed talking to the members of our crew (in very good English), and expressed his gratitude over and over.
Our homeowner complained about the iguanas ruining the crop on his fruit trees. He explained, they like to eat papayas and mangoes, but they don't like starfruit. Next thing we knew, he was presenting us with two full bags of starfruit that he'd picked for us. It was delicious! We also got to try quenepa, another unusual tropical fruit.
Power-washing a roof is one of the more fun jobs on a hot, sunny day.
We'd like to give a special shout-out to the LSS staff and case managers who accompanied us to each job site. And of course to the staff of Campamento Luterano Dr. Eduardo Roig who are taking good care of us.