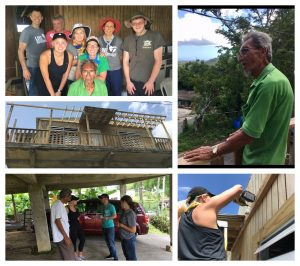 The following is a reflection from Meg Blodgett member of Calvary, Mt. Airy, another one of the volunteers working in Puerto Rico this week to aid in recovery from Hurricane Maria. Over the next weeks, volunteers will serve and support as a part of the Building Puentes initiative with the Caribbean Synod, the Metro D.C. Synod, and our Delaware-Maryland Synod. A few of them will be reflecting on their experiences, and we will share them here on our blog.
After going to multiple ELCA youth gatherings over the past 10 years, I have always found my "God moments" during times of interaction with the people we are helping rather than the actual service work itself. Although the work is very important, I love being able to connect with the people who are in the areas that we are going to help. For 9 months, I have been waiting to come to Puerto Rico and work with the community here to re-build their homes and lives. This was my chance to actually re-build houses, roofs, fences, and immerse myself in a new culture for two weeks! Monday afternoon, I sat down with the 6 other people that I would be working with for the next week to help re-build a man named Alfonso's porch and overhang. His house had been destroyed by Hurricane Maria. We shared expectations and prior experience that we could bring to the project. I told the group that I did not have much experience building things besides Lego sets but I was willing to learn! The next four days we would spend helping Alfonso fix his roof and learn his story.
Tuesday morning, my group arrives at the house and are greeted by Alfonso who was so eager to meet us all and show us his house. Case managers from Lutheran Social Services of Puerto Rico greeted us as well to help us facilitate communication with Alfonso and be a point of contact for our group if we needed help. Although there was a language barrier between Alfonso and I, I tried my best to use my three years of high school Spanish to be able to introduce myself and tell him how happy I was there to help. He understood my attempt to communicate and returned it by telling me "Thank you for coming" and shook my hand. The next 6 hours went by swiftly. At the end of the work day, we had built the foundation of the porch roofing addition and I had even drilled some of the hangers into the frame!
On the drive back to camp, I started to contemplate the topic of my blog post that I was supposed to write the next day. Turning to one of my teammates, I asked, "What if I interviewed Alfonso as part of my blog post?" She thought it was a great idea and we got to work thinking about some questions that I could ask him.
Wednesday morning, we arrived at Alfonso's house at 8:00am, ready to work and I was eager to learn more about Alfonso's life. I asked the case managers if they would ask Alfonso if I could interview him for the blog and if they were able to translate the conversation. Both were in agreement and Alfonso was ready to participate as well.
The following is a translation of the interview I had with Alfonso:
Meg: How many people lived in your house before the hurricane?
Alfonso: I lived there with my daughter and 3 grandchildren.
Meg: How old are you?
Alfonso: In October, I will be turning 85.
Meg: Do you have family living by?
Alfonso: Yes, my sister lives in the house right next to mine. I am staying there while my house is being rebuilt. She is having health issues so she is staying in the city in Dorado.
Meg: I know you are probably retired by now. What did you used to do for work?
Alfonso: I have been retired for 10 years. Before that, I worked as an assistant chef in hotel kitchens around the island.
Meg: Please tell me about your experience during the hurricane.
Alfonso: During the hurricane, I stayed at my sister's house with her and one of my grandchildren. It was safer there. No one in my family was hurt during the hurricane.
Meg: What happened after the hurricane?
Alfonso: After the hurricane, I stayed at my sister's. The roof was completely ripped off my house and everything inside had water damage. The electricity and plumbing were destroyed. My daughter and her children moved into the city to stay in government-funded housing. I didn't want to go with them. I didn't want to leave my house. I like it here.
Meg: How much did FEMA help?
Alfonso: They gave me some money for supplies to rebuild my roof. But it wasn't enough. The hurricane destroyed all of my family's clothes and appliances. I went out and bought wood for the roof but it wasn't enough for the porch roof. I had volunteers help me rebuild the roof of my house.
Meg: How does building this roof going to help you and your future life in Puerto Rico?
Alfonso: A lot. The fence surrounding my porch was gone. Other volunteers helped me put it up. I live on a hill and spend most of my time on the porch. Now when my grandchildren move back in, we won't worry about them falling and getting hurt.
Meg: What do you love about Puerto Rico?
Alfonso: I love the sports here. I love watching baseball and boxing. I like living where I am. I've been here for 70 years. It has a peaceful setting and landscape.
Meg: What do you want us to know about Puerto Rico?
Alfonso: The music. The music here is great and so moving. Take in the art of Puerto Rico. If I was able to take you somewhere, I would take you to a baseball game and to hear the music of my home.
End of the Interview.
Serving and mission work isn't just about physical labor and building stuff…it's about connecting with people and getting to know them and their unique stories. I hope you enjoyed learning more about Alfonso and his life in Puerto Rico as my team and I have this week.