by Bishop Bill Gohl
This is how one should regard us, as servants of Christ and stewards of the mysteries of God. Moreover, it is required of stewards that they be found trustworthy. -1 Corinthians 4:1-2
Last week, I had the opportunity to visit my seminary alma mater, United Lutheran Seminary – Gettysburg Campus. I was the guest of the Rev. Dr. Kathy Vitalis Hoffman for her senior class on Leadership. I was given about 30 minutes to present my "Five Things I Wish Every Pastor and Deacon Knew Upfront" and then 60 minutes for a robust Q & A, about far-reaching topics from assignment and first call to sacramental theology. I was impressed by the leadership that is being raised up by and for this church and felt encouraged by the time I spent with this gifted class and professor.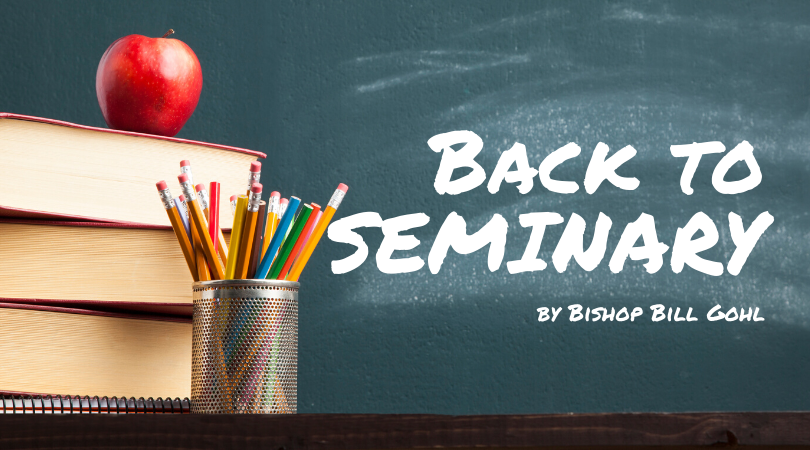 A few people asked if I might share my "Five Things" for a broader conversation. These are not exhaustive nor are they in any particular order. There are surely more important aspects of Word and Sacrament, Word and Service ministry; these are just things I wish I had known before I began my ordained ministry nearly 20 years ago.
1. Plan and take your vacation, continuing education and Sabbath.
When I was growing up, the pastors of my childhood used to take either July or August off for their vacation. Nearly 20 years into this vocation, I have come to appreciate the genius of that commitment. It takes time to slow down, disengage and rest. Now, I try to plan my vacation in such a way as to have a three-week, three-Sunday "chunk" and then parse out that last week (usually, the majority of which is spent with my in-laws at Thanksgiving). While we don't have particular continuing education requirements, we do have expectations. We need to attend to deepening our theological reflection and leadership skills over a lifetime of service. The biggest lie I lived in my first years of ministry was that I was too busy to rest, to vacation and to get away for deeper dives in learning. Those lies caught up to me later and I learned my lesson, the hard way!
2. Visitation is "paying the rent." Trust is the "currency" of ministry.
My colleague, Bishop Reigel of West Virginia-Western Maryland, always advises pastors and deacons who begin new calls on that territory to "go and visit all your sick, hospitalized and shut-ins before you unpack your office." Those visits are often among those who were the willing workers and continue to be a part of the Body of Christ, the Church. Our care for those who have stewarded these ministries we inherit and steward for this season is a witness to the rest of the Body of Christ. I cannot emphasize that visitation is a responsibility of our work, whether it is a gift or passion, it's a part of our job.  
And to follow up: don't lie. Don't lie about having seen someone you have not. Don't make excuses for mistakes. Tell the truth. Apologize when you've made a mistake. When trust is broken between pastor or deacon and those in their care, that ministry will be significantly diminished.
3. Plan your week, keep the work of the church out in front and do not be consumed by "church work."
What are your convictions about what is the primary work of the church? For me, it is deeply grounded in Word and Sacraments, Evangelism and Formation, Prayer and Care for one another. Every week, I need to plan out a week where those things are the center of my time, my work and the ministry we share. Size of ministry makes no difference, there will always be more "church work" to distract you and rob your time. Email, bulletins, newsletter articles, property management, committee work – none are inherently bad, but they can fill our hours and days and push the Work of the Church to the side. Don't be that pastor or deacon who regularly preaches unfinished sermons, because there wasn't time; don't be the one who neglects visitation because there are just so many hours in the day. If you don't plan preaching and worship, evangelism and formation – they won't be cohesive or well-executed. Plan the work and work the plan.  
4. Fill out parochial reports, report to the bishop and parish register, it helps your bishop resource/advocate; it helps track trends.
When a rostered minister finds themselves in a place of discernment or a congregation is a time of crisis, the first thing I do is pull those reports that we are constitutionally responsible to complete. They give snapshots of data and observations without the friction or lens of the current moments. Those reports help me to advocate for fair and just pay, those reports help us know what are the concerns and needs for continuing education. I read each one, pray over its contents and try to respond – personally – to each one.
5. Practice what you preach – spiritual practices, prayer, giving, scripture study, living in community – no lone rangering.
We are in this together. There is no such thing as "your" church – the church belongs wholly to Jesus Christ. When we silo and circle the wagons, we cut ourselves off from the rest of the family, the body of Christ. And, not to be too law-driven, friends: practice what you preach. If you invite people to be attentive to prayer, generous in giving, committed to scripture study and to be more than a pew-sitter – lead by example. I speak to you as a pastor who was not always attentive to personal prayer and Bible study for something more than preaching and teaching; those seasons were devastatingly hard and burnout was lurking right in front of me. I am sometimes asked, "How do you do what you do?" You have to keep the main thing the main thing, and put first things first. Oswald Chambers put it well: "Prayer doesn't fit us for the higher work, prayer is the higher work."
An admonition from the Ordination rite that never ceases to move me: Care for God's people, bear their burdens and do not betray their confidence. So discipline yourself in life and teaching that you preserve the truth, giving no occasion for false security or illusory hope. Witness faithfully in word and deed to all people. Give and receive comfort as you serve within the Church. And be of good courage, for God has called you, and your labor in the Lord is not in vain.
And the Ordination charges from the holy scriptures:
Strive for righteousness, godliness, faith, love, endurance, and gentleness. Fight the good fight of the faith. -1 Timothy 6:11-12
Take heed to yourselves and to all the flock, in which the Holy Spirit has made you guardians, to feed the Church of the Lord which he obtained with his own blood. -Acts 20:28
Tend the flock of God that is your charge, not by constraint but willingly, not for shameful gain but eagerly, not as domineering over those in your charge but being examples to the flock. And when the chief shepherd is manifested you will obtain the unfading crown of glory. -1 Peter 5.24
This is how one should regard us, as servants of Christ and stewards of the mysteries of God. Moreover, it is required of stewards that they be found trustworthy. -1 Corinthians 4:1-2