Bishop Gohl preached this sermon at Christ (Inner Harbor) on the Festival of Michael and All Angels to mark the occasion of the Rev. Susan Tjornehoj's retirement.
Then I heard a loud voice in heaven, proclaiming, "Now have come the salvation and the power and the kingdom of our God and the authority of his Messiah, for the accuser of our comrades has been thrown down, who accuses them day and night before our God." -Revelation 12:10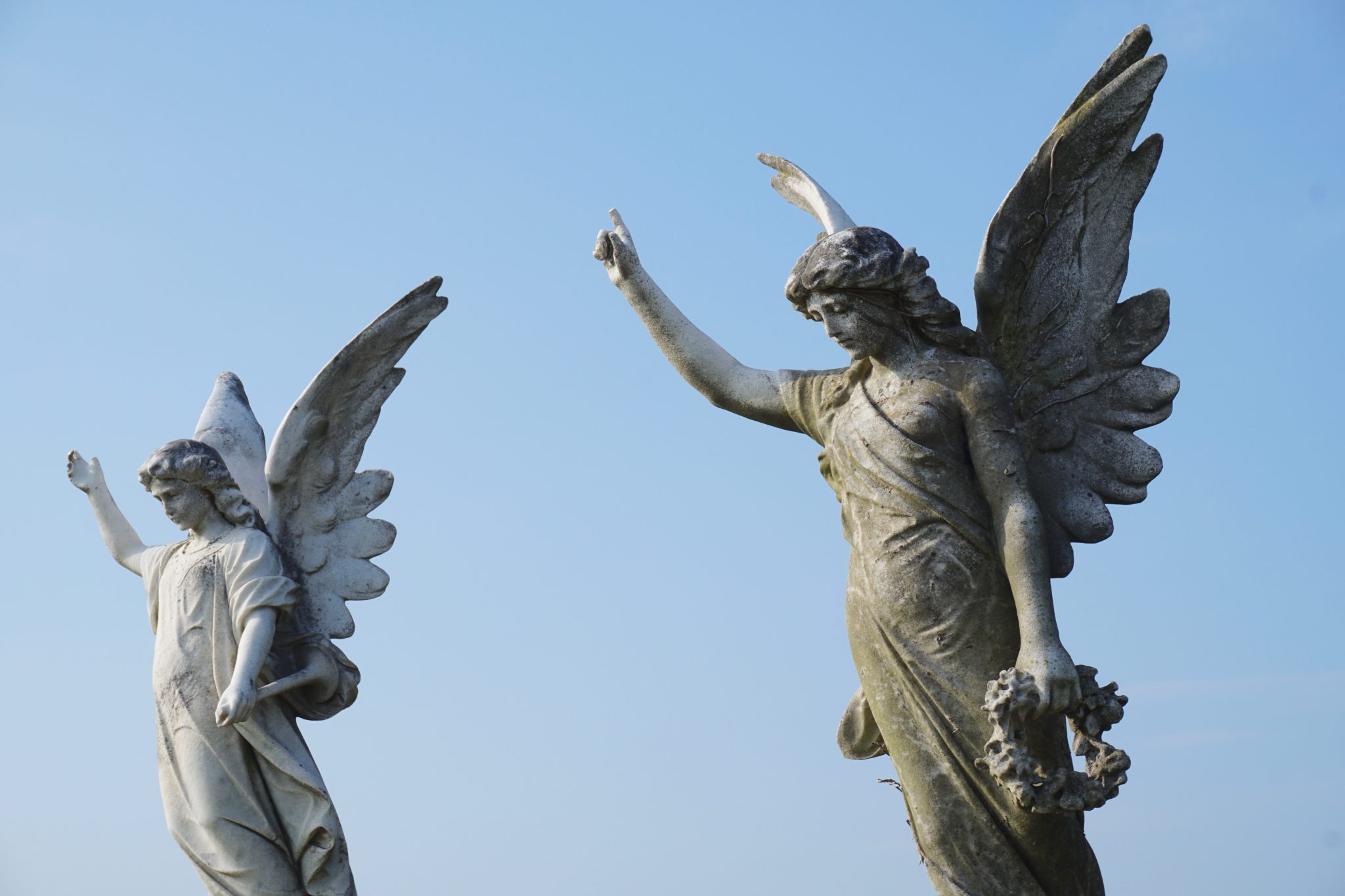 On this festival of Michael and All Angels, with our scripture readings speaking of or alluding to the heavenly order of angels, I might begin today with some reminders from the 600-plus references to angels in the Bible to help frame our time in the Word.
Yes, the Bible says there are guardian angels.
No, cherubs are not little baby angels. Cherubs have four feet and look like a sphinx with wings.
No, people don't become angels when they die. Angels are a whole different order of creation.
And, no, angels do not have to earn their wings, like in the movies. In fact,
Not all angels have wings – while some have as many as six.
Or, as Pastor Tjornehoj has taught us: angels lodge underneath us in the shelter, and do their work in this neighborhood around us, and come to visit among us – hospitality, friends – entertaining angels unaware.
The word angel actually means "messenger or ambassador." When the angel Gabriel came to old Zechariah to tell him about the birth of John the Baptist, he said: "I am Gabriel. I stand in the presence of God, and I have been sent to speak to you and to bring you this good news." That's a pretty good description of what an angel does. I have been sent to speak to you and to bring you this good news.
Angels are workers, with us, in advancing the Kingdom:
The scriptures say the angels convey God's commands to us, such as when the angel stopped Abraham from sacrificing Isaac and told Abraham that God blessed him for his faithfulness. In the same way, God sent the angel to lead Israel, saying, "Be attentive to him and listen to his voice … for my name is in him."
The witness of scripture also says that angels announce the coming of special events in the story of our salvation. Luke records both Gabriel's announcements of John the Baptist's birth and Jesus' birth. Another angel announced Isaac's birth and Samson's birth. And an angel brought visions of the end times to Daniel and to St. John in the Revelation.
And, angels interpret events in which God's hand is involved. An angel has to interpret those visions given to Daniel, like our first reading, and to John about the end times. An angel has to explain Mary's pregnancy to Joseph. Even at the empty tomb, the angel proclaims Jesus' resurrection.
Finally, angels protect and assist us. An angel told Joseph to take Mary and the child to Egypt when danger arose for them. An angel came and fed Elijah in the desert after someone tried to kill him. An angel has to release Peter from prison on two separate occasions because of the ruckus caused by his preaching.
Martin Luther said it this way: "We Christians should have the sure knowledge that the angels of heaven are with us, [and] not only one or two, but a large number of them as Luke records that a multitude of heavenly host was with the shepherds. And if we were without this custody, and God did not in this way check the fury of Satan, we could not live for one moment."
So you see, angels come to people at many different times and for many different reasons. They come in dreams, as they did to Joseph and Jacob. They come during prayer, as they did to Zechariah, Daniel and Isaiah. And they come at unexpected times, as they did when Abraham and Sarah were just going about their daily business. They even come at death, as they did to carry Lazarus to Abraham's bosom. Luther says again, "At death, I know not where I am to go; but my guides, the holy angels, know the way well."
And when they come, they may appear "like a god," looking "like lightning with clothing as white as snow." Or they may look just like an ordinary human being. Three angels appeared in human form to Abraham. Two angels appeared as human to Lot. Gabriel appeared to Daniel "as a man."
While we are not angels, we are co-workers with the angels by virtue of our baptismal call as the people of God, the body of Christ – alive! – in the world. And by devious means, we arrive at how this festival day might shape our celebration of Pastor Sue Tjornehoj's ministry among us here in Baltimore and for the sake of the whole church, a ministry that has been on both the Pacific Ocean and now the Atlantic by way of the Chesapeake Bay, with a fairly substantial stint serving in the heart of the Lutheran Church mecca of the twin-cities, specifically Minneapolis, service that has been deeply rooted in the local church and for the strengthening of the wider church, with an openness to the call of the church that has been both often exhilarating and sometimes devastating.
Now, our first reading speaks of the end times, but these are not necessarily those for this weary world, and these are certainly not end times those for Pastor Tjornehoj and her ministry – there's too much creativity, energy and passion for this to be the end of her ministry, but a prelude to the next season. Indeed, we witness by our presence and prayers with her and for her that the best is still to come.
Pastor Tjornehoj has done important work here at Christ Lutheran, I might even suggest that she has done the work of the angels. She has called us to deeper hospitality, she has connected us to the wider life of the Church – global, national local, and in her preaching – and weekly eLetters – connects us more deeply to the metroplex, this city we both love and this neighborhood where she has called us to replant our hearts for the sake of this place and people that God so loves.
There will come a day, when Christ will come in the clouds, accompanied by the holy angels. And they will defeat that old evil foe once and for all. In fact, Christ, who commands the "myriads of myriads and thousands of thousands" of angel hosts, promises to send them to watch over you and protect you and guide you – until that day when they will guide you into his kingdom in heaven. On this festival of Michael and All Angels, I am grateful for one who has, in fact, done the work of angels, teaching us how to set a broader, wider more hospitable table; to see, know and hear those who are largely invisible within community and society, who has accompanied us in ways that have not always been easy and comfortable, reminding us to "not be afraid;" our dear pastor and friend, Sue Tjornehoj, who has faithfully spoken the Word of the Lord and pointed us to see the hand of God that has faithfully guided this church to be changed and renewed in every generation. Pastor, you have taught us well, you've shown the way and we'll not forget you – or the important ways you have called us to be more faithful in our relationship to Christ, more credible witnesses in the world.
Indeed, mortal or angel, it makes no difference. Our Lord Jesus Christ, the king of the angels, has made us like the angels with the incredible words of hope we bring to all the world: fear not, for the Lord is with you, and, with Pastor Tjornehoj, we too are Messengers! Ambassadors! – of the good news of God's love, for all. Amen.
Then God's temple in heaven was opened, and the ark of his covenant was seen within his temple; and there were flashes of lightning, rumblings, peals of thunder, an earthquake, and heavy hail. A great portent appeared in heaven: a woman clothed with the sun, with the moon under her feet, and on her head a crown of twelve stars. She was pregnant and was crying out in birthpangs, in the agony of giving birth. Then another portent appeared in heaven: a great red dragon, with seven heads and ten horns, and seven diadems on his heads. His tail swept down a third of the stars of heaven and threw them to the earth. Then the dragon stood before the woman who was about to bear a child, so that he might devour her child as soon as it was born.And she gave birth to a son, a male child, who is to rule all the nations with a rod of iron. But her child was snatched away and taken to God and to his throne; and the woman fled into the wilderness, where she has a place prepared by God, so that there she can be nourished for one thousand two hundred sixty days. And war broke out in heaven; Michael and his angels fought against the dragon. The dragon and his angels fought back, but they were defeated, and there was no longer any place for them in heaven. The great dragon was thrown down, that ancient serpent, who is called the Devil and Satan, the deceiver of the whole world—he was thrown down to the earth, and his angels were thrown down with him. 1Then I heard a loud voice in heaven, proclaiming, "Now have come the salvation and the power and the kingdom of our God and the authority of his Messiah, for the accuser of our comrades has been thrown down, who accuses them day and night before our God." -Revelation 11:19-12:10