by Bishop Bill Gohl
In the seventh year there shall be a sabbath of complete rest for the land, a sabbath for the Lord… – Leviticus 25:4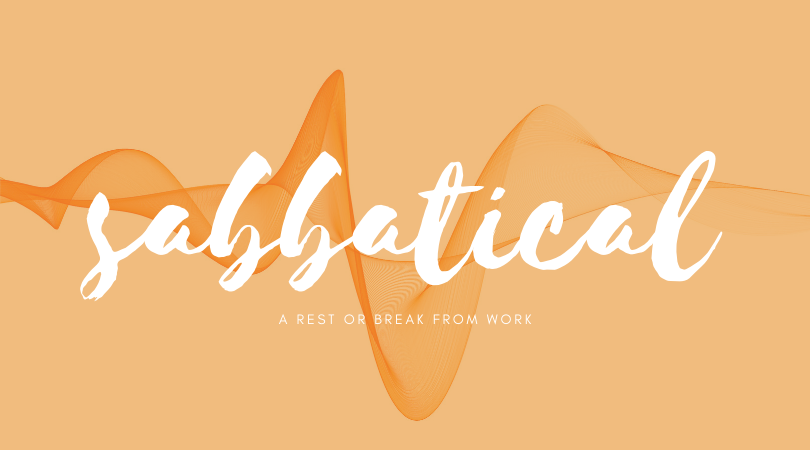 A sabbatical (from Hebrew: shabbat (שבת) i.e., Sabbath), is a rest or break from work.
The concept of the sabbatical is based on the Biblical practice of shmita, which is related to farming. In Leviticus 25, Jewish persons in the Land of Israel must take a year-long break from working the fields every seven years.
A "sabbatical" has come to mean an extended absence in the career of an individual to fulfill some goal (such as writing a book), learning (or research), rest and renewal.  Some colleges, universities and other institutional employers of academics, clergy, and scientists offer the opportunity to qualify for a paid sabbatical as an employee benefit. In the academy, it's often a semester off from teaching every 3-5 years. Our Delaware-Maryland Synod policy grants the bishop to have a sabbatical of three months after the third year of each term of service.
A less-than-encouraging member of one of our congregations, upon hearing that I would be on sabbatical leave this summer suggested that I was "about as useful as a member of Congress taking such long vacations." I admit, after having gone fairly hammer and tong for the last three years of this call, I felt a little hurt by such a characterization. I like to think of this time as a "reset" button, allowing me to re-steady myself and the pace I keep for the second half of the term you called me to as bishop of our synod.
The three components of the sabbatical, which runs from today (Arwyn's and my 13th wedding anniversary) until I return full-time to the office on September 10, are Learning, Rest and Renewal.
Learning
In June, I am taking a Spanish language class in hopes of being a more accessible pastor and bishop to our growing and emerging Latinx communities. Mindful that over half of the world's population is multilingual, I am trying to press out of my "English-only" bias and comfort zone to be a better citizen and, specifically, a more dependable partner in our Building Puentes partnership with the Metro DC and Caribbean Synods. In the last few days of July, I will be a guest of the ELCA Association of Teaching Theologians for their biennial Convocation at Augustana College in Rock Island, Illinois. We will gather under the theme: Unearned Privilege as Cheap Grace. In the first few days of August, I will attend the African Descent Lutheran Association Biennial Conference in Milwaukee, Wisconsin; our theme: Lift EVERY Voice. This time away from my regular duties will be rich times of learning, for which I am grateful.
Rest
In most of July, I will be vacationing with my family. Arwyn and me, first. The kids a bit later. No phone, no email, no Facebook – just us. Camping, overnighting, swimming, hiking and just being. About three weeks in all, this will be the longest period of rest that I have had since I became bishop – although as a parish pastor, and as a mentor to new pastors and deacons, I've always encouraged folks to take a three-week block of time off every year as part of their vacation plans – it's hard to disengage and really rest when you dole out vacation days one here, a few there. This time of rest is something my body and my family are asking for, and I am grateful for this gift you offer us all.
Renewal
It's no secret that I often describe my episcopal ministry as that of being "a temporarily misassigned parish pastor." For the sabbatical period of renewal, I have arranged to be the acting pastor of St. Paul's Lutheran Church in Newark, Delaware while Pastor Linda Gunderson is in Italy teaching art. For a few days a week, for four weeks (August 11-September 5), I will live in Delaware, preach to the same congregation four times in a row, provide pastoral care, and accompany the staff while their leader is away. I am looking forward to returning to the parish, even briefly, and tending the children and seniors, the leaders and guests of St. Paul's. I will also use the sabbatical time to be "renewed" as a homeowner – planting a balcony garden, painting our living room, dining room and kitchen, tending to some loose siding that drives me a little crazy, and cleaning out the basement a bit. A time to be renewed as a Minister of Word and Sacrament, as well as in my primary vocation of husband and father, is an amazing gift of grace, and I am grateful for such renewal time, as well.
During this time, I will poke into "work" a bit, too. I will represent our synod as part of our Churchwide Assembly delegation for a week in August; I will return for a day to ordain a new pastor and baptize a pastor's child; I will keep one preaching engagement for a friend's anniversary that I committed to long before the sabbatical was scheduled. I will welcome the National Association of Lutheran Interim Pastors on your behalf, speak to the ELCA Mission Developers when they gather on our territory in August, attend a Region 8 bishops gathering, serve as chaplain to the Metro DC Synod Assembly where my friend Bishop Graham's successor will be called and elected, and preach from a prominent NYC pulpit to honor a friend's ordination anniversary!
Still, Bishop Claire Burkat, our acting bishop, will keep a busy, if part-time schedule, preaching and offering pastoral oversight and leadership around our synod so that you might experience a different voice in the bishop's office; the Rev. Dr. Amsalu Geleta, our executive assistant to the bishop, will care for the day-to-day operations of leading our synod, coordinating our colleagues to cover their own work as well as some of my own; and the indefatigable John Auger, Synod Council Vice President, is accompanying this whole enterprise with his partnership, prayers, and leadership. The Delaware-Maryland Synod is in good hands – God's! And God is capably assisted by these good leaders as well as our staff, deans and Synod Council, too.
My sabbatical goals are not overly ambitious, there is no book or degree forthcoming. These goals are fairly straightforward:
Spiritual
I am hoping to read the entire Pauline corpus of scripture in chronological order so that I can better understand the development of Paul's thinking about grace, suffering, leadership and diversity. I will renew my commitment to journaling alongside the scriptures – and not just on Facebook!
Relational
My spouse's primary work in this season is as an elementary music teacher, which gives her a good part of the summer off. Our three younger children are on summer break, too. My hope is that we can enjoy this time away from our regular routines together and find ourselves more regularly at the table together, playing together, dreaming together and worshipping together.
Physical
I am committed to spending these next months improving my physical health. I began today with a one-mile walk to begin building up strength and stamina, shedding some weight – and readying to wow my doctor at my annual physical in September. These three months of learning, rest and renewal will be less sedentary than crisscrossing our synod in the bishopmobile!
So, pray for me in this journey and know that I will continue to pray for you, and us, and our life together in the Delaware-Maryland Synod! Love, support and pray for Bishop Burkat, Pastor Amsalu, John, Pastor Robin, Pastor Eric, Pastor Bettye, Deacon Julie, Justina, Karen, Cindy, Pat, Sheron, our Deans, and Synod Council, too. May God bring good fruit from this time, in us, for us and through us – for Jesus' sake.
My love and prayers – and real gratitude too. +Bill Gohl
The Lord spoke to Moses on Mount Sinai, saying: Speak to the people of Israel and say to them: When you enter the land that I am giving you, the land shall observe a sabbath for the Lord. Six years you shall sow your field, and six years you shall prune your vineyard, and gather in their yield; but in the seventh year there shall be a sabbath of complete rest for the land, a sabbath for the Lord: you shall not sow your field or prune your vineyard. You shall not reap the aftergrowth of your harvest or gather the grapes of your unpruned vine: it shall be a year of complete rest for the land. – Leviticus 25:1-5