Celebrating the 50th Anniversary of Ordaining Women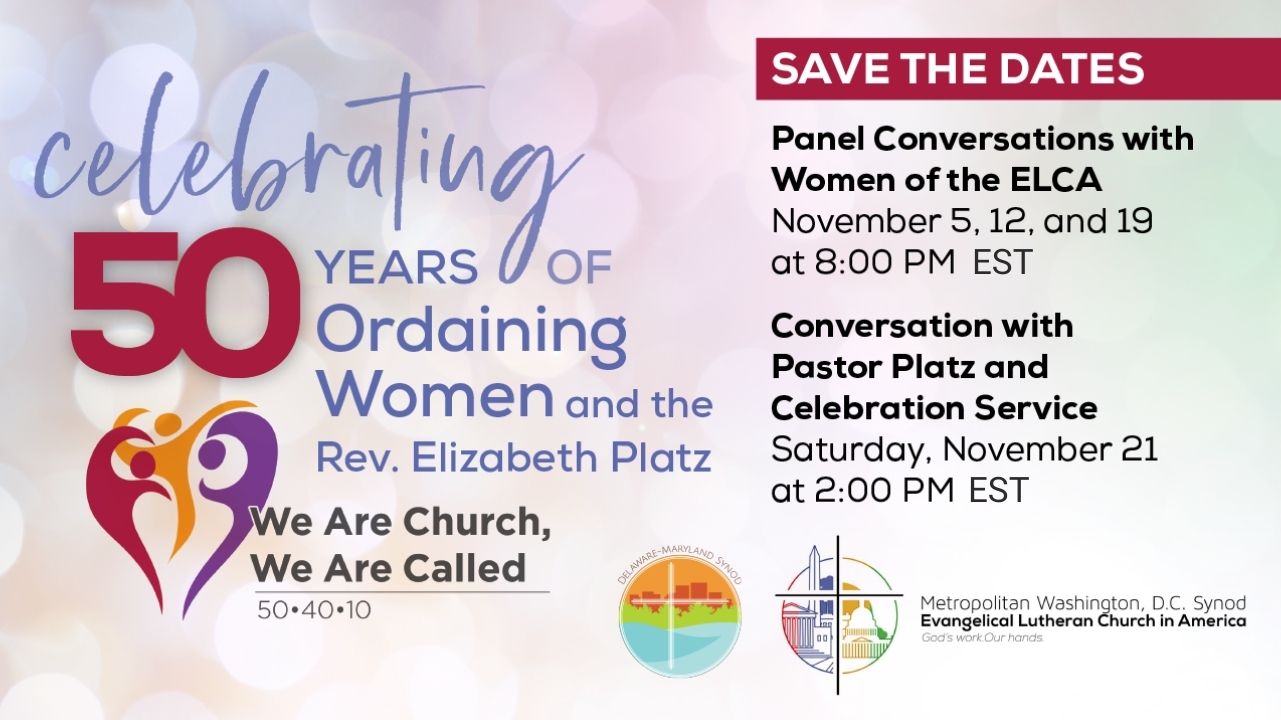 In 2019 and 2020, we celebrate 50 years of Lutheran women being ordained in the United States, 40 years of women of color being ordained, and 10 years of LGBTQIA+ individuals being able to serve freely.
As part of this anniversary year, we lament that women have been barred from serving and have been bullied, dismissed, and excluded. We also celebrate the gifts and service that women have brought to our church and our world as pastors.
The Delaware-Maryland and Metro D.C. Synods invite you to celebrate these historical moments with us during the month of November!
Celebrating the Rev. Elizabeth Platz on November 21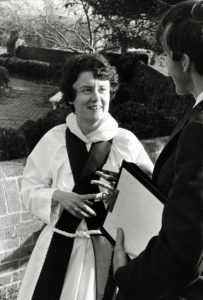 Almost 50 years ago, on November 22, 1970, the Rev. Elizabeth Platz was ordained at the University of Maryland chapel as the first woman ordained in the Lutheran Church in North America. She went on to serve as the Chaplain for Lutheran Campus Ministries at the University of Maryland for 47 years, quietly influencing generations of Lutheran students to remain active in the church and in service to others.
The Delaware-Maryland and Metro D.C. Synods invite you to a celebratory worship service and conversation with the Rev. Platz on Saturday, November 21 at 2 pm EST. We are incredibly grateful for the ministry of Pastor Platz and hope you will join in this joyful occasion on the YouTube or Facebook pages of either synod.
Watch on Facebook | Watch on YouTube                                                      English Bulletin | Spanish Bulletin
All offerings collected for our 50•40•10 Celebration will go to the Elizabeth Platz Endowment Fund and the ELCA Fund for Leaders. To make a gift, click the "Make a gift" button below and select "50.40.10 Celebration" from the dropdown menu – it is the very last option. 

After you have entered all of your information, click the "Give" button at the bottom of the page, and your gift will be processed securely. The merchant listed on your credit card or bank statement will be "DEMD Synod" and you will receive a statement reflecting your gift after the year-end.
Rev. Platz Memory Book
The Rev. Elizabeth Platz was ordained as the first female pastor in the Lutheran Church in the Western Hemisphere on November 22, 1970. As we celebrate the 50th anniversary of the ordination of women and Pastor Platz, we invite all to share memories, stories, photos, and mementos online or in hard copy, so that we can present Pastor Platz with these books as a sign of thanksgiving for her ministry. Please make submissions by November 22, 2020. 
To submit hard copies of photos or mementos, please send them to:
Saint Luke Lutheran Church
c/o Pr. Beth Celebration
9100 Colesville Road
Silver Spring, Maryland 20910-1694
Hear the Stories of Women in the ELCA

All are invited to three panel discussions on November 5, 12, and 19 at 8 pm EST to prepare our hearts for the 50th Anniversary celebration worship service.
During these panels, we will hear stories from Pastors (November 5), Deacons (November 12), and Bishops (November 19) in the ELCA who were influenced and inspired by the women before them as well as the personal struggles and spirit-filled moments women in ministry have experienced. To receive an email reminder about these panels with the link to view, please fill out the registration form below.
50-40-10 Panel Registration
Please register below for the panel discussions you plan to attend. Registration is free, and we will send you a reminder with the link to view the panel.